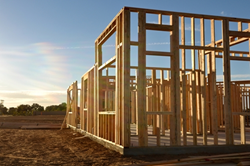 Home buyers building their own homes will have to factor the price of land
Chicago, IL (PRWEB) January 15, 2015
Before home buyers decide on what to paint their living rooms or whether to remodel their kitchens, The Federal Savings Bank suggests they should decide whether a new or existing home is the correct choice. While many home buyers decide to buy a home that has already been standing for years, others opt to build their own from the ground up. Not only does this give them a sense of accomplishment, home buyers also feel like the homes are truly theirs.
Here are the pros and cons of living in a new or existing home:
New homes
Consider the fun customization of a new home: Home buyers who purchase new construction have the advantage of being the first person to live in their homes. New homeowners can decide what building materials they want, such as granite for kitchen counters and tile for bathrooms, to personalize the look of their homes before they move in.
Consider the time and energy needed to customize: While home buyers already have the task of knowing what they want in a house, those looking for new construction will not only have to determine what they want their homes to look like but also where they will be located. Home buyers building their own homes will have to factor the price of land, as well as get all of the required permits and contracts to make a lot a usable space.
Existing homes
Consider the lower costs: While there are plenty of pros that go with new homes, they will likely be more expensive than existing homes. In the latest data provided by the National Association of Home Builders, new-home prices reached an average of $321,800 in November 2014. While the average price for existing homes grew, they were almost $70,000 lower than the average for new homes at $252,800, according to NAHB.
Consider that things can also go wring with an existing home purchase: Although purchase agreements require sellers to disclose major issues about a house before buyers close, there could be problems that don't appear until later after they hand the keys over to buyers. Existing homes may have a history of water damage or issues with plumbing that may not be readily apparent until buyers dig deeper. Also, buyers might find themselves not entirely happy with the house - either with the layout or number of bathrooms and bedrooms - down the line.
As home buyers consider buying a new or existing home, they could contact The Federal Savings Bank, a veteran owned bank, to learn more about the process to apply for home loans.