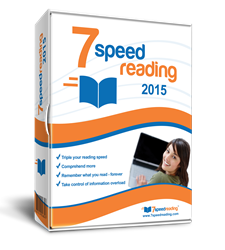 ...the software's cloud technology makes it possible for users to take advantage of data syncing across devices for access to their latest reports and training
New York City, NY (PRWEB) January 18, 2015
Mark Ways of Typing Lounge offers an in-depth review of speed reading programs to help users choose the most effective program on the market. On his website, Ways offers a "Top 5 Speed Reading Software" list, and 7 Speed Reading™ by eReflect is in first place with a 5-star rating.
In his exhaustive review, Ways explains that 7 Speed Reading™ has a winning combination of features that include video tutorials, progress tracking, and reporting, as well as cutting-edge functionality. One example of the software's utility is the fact that it's now cloud-based, which means it is accessible on multiple devices and from any location convenient to the user. The reviewer also mentions that the software's cloud technology makes it possible for users to take advantage of data syncing across devices for access to their latest reports and training.
In his speed reading software review, Ways also highlights the fact that with eReflect's software, users can login with their Facebook account, train in groups to increase training motivation, and share their progress and score with friends and family on popular social networks. For these and many other reasons, Typing Lounge has determined that 7 Speed Reading™ 2015 is the best speed reading program available. As Ways remarks, "It offers a comprehensive feature set and also more functions compared to other speed reading programs. The ability to watch videos and learn about how each technique works is a huge plus point. The fact that you can access from anywhere, import your own documents, choose from 600 different eBooks, learn in groups or share results makes it the most content rich and best speed reading software in the market."
The top five list published on Typing Lounge includes other speed reading improvement software systems. AceReader Elite 2014 was given the second-place spot in the review, and Speed Reader X ended up in third place. Reader's Edge and Rock Reader were rated in the fourth and fifth places respectively in the Typing Lounge review.
************
For more information about the benefits of using 7 Speed Reading, please visit the official website at http://www.7speedreading.com.
About 7 Speed Reading™
7 Speed Reading is the only modern speed reading software that uses the latest technology to produce superior results.
The software provides its users with a new way to master speed reading that guarantees three times the reading speed along with improved memory and comprehension.
The software is poised as the most comprehensive speed reading system anywhere. It contains seven learning strategies, fifteen software activities, video training, advanced tracking capabilities and many more exciting features.