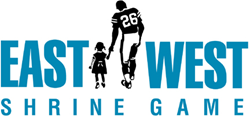 My favorite part about the experience was visiting the kids at the Shriners Hospital for Children. Knowing that we put smiles on those kids' faces is what it's all about.
St. Petersburg, Fla. (PRWEB) January 16, 2015
More than 40 years separate when Jim Hanifan, a former receiver at the University of California and Tommie Frazier, a quarterback out of the University of Nebraska, played college football. Yet these all-stars will be inducted together into the East-West Shrine Game Hall of Fame in ceremonies for the January 17, 2015 contest.
When Hanifan played for the West in the 1955 game, he was coming off a college season with the Golden Bears in which he led the nation in receiving. Hanifan played professionally for just one season in the Canadian Football League (Toronto Argonauts), but he would go on to make a name for himself in the NFL as an elite offensive line coach. In fact, Hanifan was coaching at that post when he garnered Super Bowl rings with two different teams—the 1991 Redskins and the 1999 St. Louis Rams.
Hanifan began his coaching career in the college ranks as an assistant with the University of Utah (1966 – 69), then California (1970 – 71), and San Diego State (1972). He came to the NFL in 1973 as the offensive line coach for the St. Louis Cardinals—a role he filled for five years, earning NFL Assistant Coach of the Year Honors in 1977. He spent a year with the San Diego Chargers in 1979 before returning to the Cardinal's club as head coach (1980 – 85). He would later serve as an assistant and interim head coach with the Atlanta Falcons before moving on the Redskins (1990 – 1996) and the Rams (1997 – 2003). Additionally, Hanifan worked as color commentator for the Ram's radio broadcast team from 2004 – 08.
With two national championships at Nebraska (1994 and 1995) under his belt, Tommie Frazier was the epitome of a college football star when he participated in the 1996 East-West Shrine Game. A four-year starter for the Cornhuskers, Frazier ended his senior year ranked first on the team in total offense with 1,996 yards (178.7 per game), third in scoring with 7.8 points per game, and second in rushing with 604 yards on 97 attempts. He was recognized as first-team All American quarterback by AP, UPI and Walter Camp … among several other organizations. It was probably no surprise then that Frazier would come out of the 1996 Shrine game as the 'Most Outstanding Offensive Player' and 'Offensive MVP' after directing his West team to a 34 – 18 victory.
Even years later, Frazier continues to impress. Sports Illustrated named him to its 85-Player All-Century Team, and he is considered one of the 10 greatest college football players of the century according to Sport magazine. In 2013, he was elected to the College Football Hall of Fame. Injuries prevented Frazier from playing professionally, but he was an assistant football coach at Baylor University, and an assistant director of athletic development at Nebraska. Frazier also served as head football coach for Doane College.
Upon learning of his induction in the Hall of Fame, Frazier recalled his own experience as a player in the Shrine Game. He noted that the event is truly "more than just a game."
"My favorite part about the experience was visiting the kids at the Shriners Hospital for Children. Knowing that we put smiles on those kids' faces is what it's all about," Frazier said. "The game had a positive effect on me personally because it showed how I can give back to others. I strive to continue that work in my life now by working with kids in communities that are less fortunate. The East-West Shrine Game is about playing football, and giving back."
Though their playing days were decades apart, Jim Hanifan shares Frazier's sentiment as to what participating in the game means to a young man. "I really didn't know anything about the Shriners," he recalled. "I just knew the game was a really big deal. But once you go to the hospital, you're like, 'oh I get it now,' and you see what it's all about. Ever since then, I've been a huge fan of Shriners and their mission."
Hanifan, who also coached the West Team in 2008, added, "I think anyone who has ever played in an East-West Shrine Game will tell you it's very different from any other all-star game. The others are only about showing off athletic ability … but in this game, you feel like you are also helping these kids."