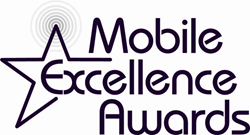 "Kudos to you on a fantastic job and thank you for making this all come together so flawlessly. It's a privilege to participate in the MEA's and it's something we at Fox take very seriously." Adam Wilensky, Executive Director, Fox Digital Entertainment
Los Angeles, CA (PRWEB) January 16, 2015
The Mobile Excellence Awards honored industry leaders and rising stars at its annual gala, which took place on Tuesday, January 13th, at the recently inaugurated YouTube Space LA and sponsored by Hilton Worldwide, Intel and Fathom Events.
Now in its 7th year, the Mobile Excellence Awards is the only awards program in the industry of this caliber that recognizes and honors the companies that have truly set the bar of excellence in the technology industry. From leading brands to studios, carriers and startups, Mobile Excellence Award finalists and winners were celebrated by the industry's leading executives, influencers at an exclusive awards ceremony.
"We're very proud that our 7th year event was a stellar success," said MEA board member Allison Dollar, CEO of the ITV Alliance. "Home run. This year's Mobile Excellence Awards hit the high benchmarks we set, not just for the MEA organization, but also in the level of innovation and achievement demonstrated by the finalists and winners. And our partners and sponsors were first rate, couldn't have asked for better. We congratulate all the winners who showed creativity and determination to better the future of the industry as a whole. We look forward to continuing to offer a place of recognition and leadership in gearing up for the next one."
The 7th Annual Mobile Excellence Awards are produced by Axis PR & Entertainment and Little Monster Media.
2014 Mobile Excellence Award Winners
Industry Star
AT&T
Mobile Ambassador
Brad Spahr, Vice President, Product Development, Global Digital Business at Sony Music Entertainment
Best Mobile Innovator
Hilton Worldwide, digital check-in and room selection
Best International
B2X Care Solutions, SMARTBAR
Best Retail/Commerce Solution for Mobile
Vodafone Mobile Wallet
Best Mobile Product
Intel Blackburn Tablet Design
Best Mobile Payment
Vodafone Mobile Wallet
Best Mobile Games
TinyCo – FAMILY GUY: The Quest for Stuff
Best Mobile Music
Sony Music Entertainment Album of the Day App
Best Entertainment Related Marketing Campaign
Office Depot Gotta Get Inspir5d: An Augmented Reality Experience
Best Original Content for Mobile
Vibes for Sauza, "Make it With a Cowboy" Campaign
Best Content Extension Made for Mobile
NBC Universal Syfy – Syfy Sync
Best Mobile Sports
Los Angeles Kings, Los Angeles Kings Mobile App
Best User Experience for Mobile
SocialNightlife Mobile App
Best Technology Breakthrough
Qualcomm Atheros – Qualcomm VIVE with Multi-User MIMO
Best Delivery Platform for Mobile
HP Aurasma
Best 2nd Screen Experience for TV on Mobile or Tablet
MHL Consortium / MHL 3.0
Best Mobile Video
AdColony
Best Mobile App for Home
Chamberlain, MyQ Garage
Best Mobile App for Health/Fitness
IHG/Even Hotels
Best Mobile Utility Application for a Smartphone or Tablet
Parallels, Parallels Access
Best Over-all Mobile App
E! Entertainment
**Winners of 2014 Mobile Excellence Awards were determined by scores from an undisclosed panel of high-caliber judges from top-tier business and technology companies. Award winners were sealed and not revealed until the evening of the awards**
About Mobile Excellence Awards
The 2014 Mobile Excellence Awards profiles the latest in mobile entertainment, including media, marketing and technology. We award excellence in execution of corporate approach, consumer services, consumer experiences, content creation, and marketing devices or revenue generators for the mobile entertainment industry. For more information, please visit http://www.mobileXawards.com.