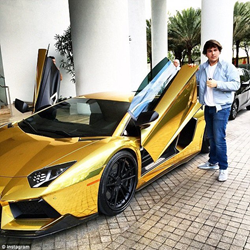 Los Angeles, California (PRWEB) January 17, 2015
Some parents leave an inheritance to their children upon their death. Some parents raise their kids with socially acceptable value systems. Others may gear their children toward having a giving heart or a servant heart. There are even parents who are millionaires and they raise their children in an environment of excess and indulgence beyond boundaries many can imagine. The question on many people's minds is, "What do such parents pass along?" This past holiday season, several children of super rich parents shared Instagram photos of their luxe gifts. The public has recoiled and millionaire parents are giving push back and declaring that their children are entitled to the fruits of their success.
Some millionaire parents met on dating sites for other successful people. MillionaireMatch.com is one such site. When people have worked hard and amassed wealth and they come together with someone who has experienced a similar level of achievement, their children have more perks.
In 2012 Sean P. Diddy was reported to have given his son a Maybach for his 16th birthday. The premium vehicle is valued at $360,000. Diddy defended his actions and stated that he saw nothing wrong or inappropriate about what he did. He essentially stated that it was his personal choice and his business what he elects to do for his children. He also told The Daily News that nobody knows how he raises his children.
This may be the same answer other super wealthy parents might say in defense of their gifts of "extravagance." This past holiday season, many rich kids posted pictures of their gifts on Instagram, included a gold bespoke iPhone. One shared a picture of their amazingly well-decorated double staircase and foyer, others of themselves sunning in an island where they had been jetted for an escape from winter.
While not every rich parent will sponsor a climate-hopping trip to some exotic isle, some of them do indulge in other ways that the average citizen can't begin to wrap their heads around. For instance, one of the Instagram pictures showed a girl carrying boxes of new merchandise to drop on the floor where a large square footage of floor space already held other luxury bags of goods from designers like Prada. Photos of private yacht time, an American Express card (black) and other top-tier gifts were also uploaded on Instagram and reposted in a Business Insider article by Carol Moss titled, "The 'Rich Kids of Instagram' Make Other Holiday Celebrations Look Rather Poor," (Jan. 1, 2015).
When people compare themselves, as the article suggests, it's a recipe for disaster anyway. The fact that wise people celebrate the holidays at the level they can afford is nothing new.
What such indulgence teaches the rich kid is hard to measure, since the world doesn't get to see what parents are teaching such children in terms of values, principles and standards for living. Wealth and good moral upbringings are not mutually exclusive, and the recipients of such wondrous goods can also be benefactors of good and even share their wealth with those less fortunate.
Over at MillionaireMatch.com, where actually rich people congregate, members are also expressing their own opinions on this. Check out this MillionaireMatch blog.
To find more information about dating a millionaire, visit http://www.millionairedatingtip.com/. About luxury life style, visit http://luxury.millionairematch.com/