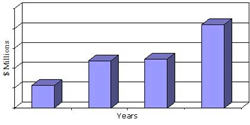 Electric Vehicle Market Expanding at 11.1% CAGR
Wellesley, Mass. (PRWEB) January 16, 2015
BCC Research (http://www.bccresearch.com) reveals in its new report titled Electric Vehicle and Fuel Cell Power Sources: Technologies and Global Markets; the global market for electric vehicle power sources is continuing to grow in most market sectors. The foundation for much wider electric vehicle (EV) use is now well established and there are well-financed private and government-backed plans for the introduction of large numbers of next-generation vehicles. As the market for battery-powered vehicles flourishes, the emerging market for fuel cell-powered vehicles is just beginning.
The global EV power sources market in 2013 was worth more than $11.9 billion at the manufacturers' level. This market is expected to spread at a compound annual growth rate (CAGR) of 11.1% between 2014 and 2019.
The largest segment of the EV market (at least based on number of units) is mainly the Far Eastern lead-acid battery-powered eBike and eScooter market. It was worth $2.4 billion in 2013, contracted slightly, and will grow from $2.2 billion to more than $6.1 billion between 2014 and 2019. This will occur as Chinese sales continue to increase and the market spreads throughout the Far East, especially into India.
"After eight years of commercial pilots and technological improvements, the fuel cell vehicle is poised for wide introduction, hefty buyer subsidies, and most importantly, growing hydrogen fuel availability," says BCC Research analyst Donald Saxman. "Under a consensus scenario, this market could approach a half billion in annual sales by 2019."
Electric Vehicle and Fuel Cell Power Sources: Technologies and Global Markets analyzes the global market for power sources for EVs including battery-powered vehicles, fuel cell-powered vehicles, and hybrid vehicles. It reviews the market trends, with data from 2013, estimates for 2014, and projections of CAGRs through 2019.
Editors and reporters who wish to speak with the analyst should contact Steven Cumming at steven.cumming(at)bccresearch(dot)com.
About BCC Research
BCC Research publishes market research reports that make organizations worldwide more profitable with intelligence that drives smart business decisions. These reports cover today's major industrial and technology sectors, including emerging markets. For more than 40 years we've helped customers identify new market opportunities with accurate and reliable data and insight, including market sizing, forecasting, industry overviews, and identification of significant trends and key market participants. We partner with analysts who are experts in specific areas of industry and technology, providing unbiased measurements and assessments of global markets. Recently selected as the world's greatest market research company, BCC Research is a unit of Eli Global, LLC. Visit our website at http://www.bccresearch.com. Contact us: (+1) 781-489-7301 (U.S. Eastern Time), or email information(at)bccresearch(dot)com.