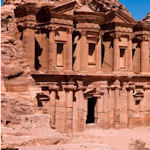 I believe in the restorative power of travel
Brighton, UK (PRWEB UK) 16 January 2015
Blue Monday, the day researchers have pinpointed to be the most depressing day of the year due to a combination of post-Christmas hangover, debt before the first pay day of the new year and the notoriously gloomy UK winter weather launches the final two weeks of January on Monday.
Stats from bookings via Responsible Travel in the week following Blue Monday 2014, show that when it's dark and depressing at home, people are driven to book holidays in colourful destinations. The top 5 most booked trips during Blue Monday week are:
1. Andalucia, Spain
2. Jordan
3. Finnish Lapland for the Northern Lights
4. Croatia
5. South Africa
As can be seen from the above, colour dominates this list; The white villages under the deep blue skies of Andalucia; the ancient Rose-Red City of Petra, Jordan; the turquoise waters surrounding Croatia's islands, and the big skies of South Africa's wildlife reserves. Even the winter destination of Lapland is popular due to the colours of the Northern Lights illuminating the winter landscape.
Managing Director of Responsible Travel, Justin Francis says "I believe in the restorative power of travel. I also believe that in treating local people and places fairly and with respect, our hosts are much more likely to choose to invite us into their homes and lives and to give us a deeper, more enriching experience on holiday.
"Over the past 14 years have been working to try to bring together holidays which offer real insights into local cultures, a chance to connect with local environments".
Here are the top 7 rose-tinted destinations where Responsible Travel expects to see bookings in 2015:
1. Peruse Petra, Jordan. Walk in the footsteps of Indiana Jones in the ancient Rose Red City & have your own adventure in Arabia http://www.responsibletravel.com/holiday/4154/jordan-holiday-a-week-in-jordan
2. Light up in Lapland. Discover the Northern Lights' perfect pink hues http://www.responsibletravel.com/holiday/3394/finland-holiday
3. Japan. Cherry Blossom paints a pretty picture in pink in March-April each year. http://www.responsibletravel.com/holiday/10595/japan-holiday
4. Marrakech, Morocco. Wander the streets of the Rose City and get lost among the souks and spices of its soft-pink walls http://www.responsibletravel.com/holiday/1747/highlights-of-morocco-holiday
5. South East Asia sunrises. Watch the sky turn pink over Angkor Wat, Cambodia and discover a land of lotus flowers in Thailand. http://www.responsibletravel.com/holiday/1772/vietnam-to-thailand-small-group-holiday
6. Rajasthan, India. Discover the majesty of the 'Pink City', Jaipur, and go back in time exploring its palaces. http://www.responsibletravel.com/holiday/1764/rajasthan-tours-india
7. Kenya. Lake Nakuru is home to one of the world's greatest bird spectacles, flocks of pink flamingos. http://www.responsibletravel.com/holiday/1667/gorilla-safari-and-the-masai-mara
Images available on request.
Notes to editors:
About responsibletravel.com
responsibletravel.com is the world's leading online travel agent for responsible holidays and a pioneer of responsible tourism. Started in 2001 with backing from Dame Anita Roddick of The Body Shop the site's mantra is 'travel like a local'. It sells holidays that are about more than just a brief stay somewhere - instead it is travel that offers a real connection with the people, the landscape, the culture, the food and the environment. It offers over 7,500 responsible holidays from over 3,000 holiday providers which all support communities and conservation. Handpicked local specialists provide authentic holidays for those seeking adventure, cultural or active experiences worldwide in destinations as diverse as Antarctica - http://www.responsibletravel.com/holidays/antarctica, Kilimanjaro - http://www.responsibletravel.com/holidays/kilimanjaro-climb, and Montenegro - http://www.responsibletravel.com/holidays/montenegro.
In addition responsibletravel.com:
Is quickly becoming the leading online publisher of responsible tourism content with an expanding portfolio of 130 travel guides by February 2015.
Founded and organises The World Responsible Tourism Awards, celebrating 11 years at World Travel Market this year.
Campaigns for positive change in the travel and tourism industry.
CEO Justin Francis has been included in Courvoisiers The Future 500, Thames and Hudsons 60 Innovators Shaping Our Creative Future and taken his place on the Advisory Board of The International Centre for Responsible Tourism at Manchester Metropolitan University.
The company is based in Brighton's North Laine district, England.
Contact:
Sarah Bareham
press(at)responsibletravel(dot)com
01273 829 269 (UK)