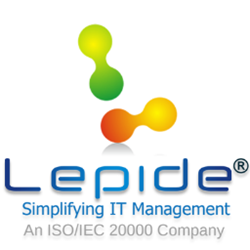 LepideAuditor is a powerful auditing platform, centralizing the auditing within a single, easy to use console.
Noida, U.P. (PRWEB) January 20, 2015
Lepide Software Pvt. Ltd. a software product company which offers Change Auditing, Identity and Access Management, Business Continuity, IT Administration Solutions and much more announces release of the new version (version 15.0) of its composite auditing solution – LepideAuditor Suite.
The new version incorporates three new modules:

SharePoint Auditing: Audit all SharePoint changes to ensure good health and security through comprehensive reports which provide Who, What, When and Where information through insightful reports. It uses dedicated agents to track all changes of SharePoint and safeguards SharePoint Server from security breach and compliance violations.
SQL Server Auditing: Monitor all changes done to SQL Server and track all User activities to find out server and database changes. Stay complaint and ensure SQL Server security by tracking each and every changes happening in the SQL Server environment.
Health Monitoring: Perform health monitoring of Active Directory and Exchange Server for recording status of critical services, CPU, Disks Usage and other important aspects. This information is presented graphically to let users know about the important health aspects in a glance.
Key Features of LepideAuditor are:

One central platform to monitor Active Directory, GPO, Exchange Server, SharePoint, and SQL Server.
Long-term storage of audit logs in a secure SQL Server database. Optional archiving of old logs in a separate database.
Perform real-time monitoring with email alerts and LiveFeed that present information as and when the event occurs.
There are 270+ predefined reports that give who, what, when and where information in separate columns and help you to answer audit questions as they are asked.
Create customized reports with the help of a large number of filters.
There are 70+ Dashboard reports to display important changes graphically to give the gist of the matter at a glance.
Restore Active Directory object's state from snapshots; restore objects from AD Tombstone and state of GPO objects from Snapshots.
Compliance specific reports to ensure compliance to external regulations such as PCI DSS, SOX, GLBA, and HIPAA.
LepideAuditor Suite has an intuitive interface which makes working on it very easy and without any formal training.
By bringing together all these five components – Active Directory, GPO, Exchange Server, SQL Server and SharePoint under one console LepideAuditor Suite solves the complexities involved in auditing and compliance. It is a futuristic tool to help organizations secure their IT resources by keeping a continuous watch and be cognizant of all changes happening in IT environment.
Visit http://www.lepide.com/lepideauditor/ to know more about LepideAuditor Suite. To download LepideAuditor Suite, please visit http://www.lepide.com/lepideauditor/download.html
Review LepideAuditor Suite and get $25 gift card!
Lepide Software is providing an offer where one can write a review and get $25 Amazon Gift voucher. All that needs to be done is download and install our product, send an email at sales(at)lepide(dot)com to get a NFR license for 20 days. Test the product and write an objective review of the product and email it at reviews(at)lepide(dot)com by 31st Jan'15. Lepide Software will check the review at its end and revert to the contributor on how to get the gift voucher. Visit http://www.lepide.com/campaign2015/auditorsuitereview/ to participate in the campaign.
About Lepide Software:
Lepide Software Private Limited is a Microsoft Gold Partner (Application Development). This India based company offers advanced products required by IT organization for Change Auditing, Identity and Access Management, Business Continuity, IT Administration Solutions and much more To know more about the company, visit: http://www.lepide.com.