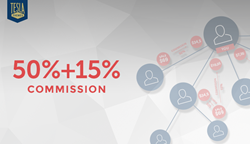 Now TeslaThemes affiliates have even more reasons to promote their products. Even a small number of 2nd tier affiliates can bring them a considerable amount of earnings.
Szczecin, Poland (PRWEB) January 19, 2015
TeslaThemes is proud to announce the launch of the second tier commission system for their affiliate program. The 2nd tier commission will apply to all affiliates and will allow them to earn an extra 15% from every sale made by a second tier affiliate. This means that affiliates will earn 50% commissions for every sale they refer + 15% for all sales generated via their referrals.
It's also important to note that their affiliate program is valid for all WordPress themes and subscription plans. Only 1 sale of the $345 Lifetime Developer pack can bring an affiliate $172.5 in commission. A simple math calculation shows that earning $1k per month is not so hard to achieve.
As of January 2015, TeslaThemes had more than 400 active affiliates. With launching the second tier affiliate program, TeslaThemes hopes to get more active affiliates and to increase the total amount of money earned by affiliates who promote their products.
Compared to other Wordpress theme shops, TeslaTheme's affiliate program is one of the most competitive providing 50% for every sale + 15% for second tier and a full pack of high conversion banners, email templates, custom coupon codes high resolution screenshots and much more, that affiliates can use.
And to help affiliates get more sales, TeslaThemes is also providing free themes for affiliate reviews and giveaways, upon request.
Teslathemes was launched in May 2013 and is owned by the Polish company Red-Sky sp.z.o.o. As of January 2015, they had more than 31 Wordpress premium themes for sale and more than 11 000 paid subscribers. A single theme costs $39, a standard subscription - $49, a developer subscription costs $69 and the lifetime subscription costs $345. All of their themes are powered by the Tesla framework – a powerful frame and administration tool that allows users to easily customize the look and functionality of their theme, without advanced knowledge of web development.