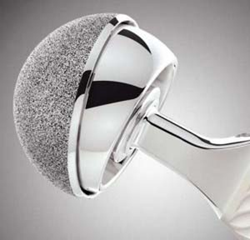 For information on this DePuy ASR Hip Settlement or if you have experienced DePuy ASR hip replacement side effects contact Wright & Schulte at www.yourlegalhelp.com, or by call 1-800-399-0795
Columbus, OH (PRWEB) January 21, 2015
As pretrial proceedings move forward for cases involving DePuy's recalled ASR hip implants, lawsuit filings in the litigation have increased to nearly 8,000, Wright & Schulte LLC reports. The DePuy ASR hip implant lawsuits were filed on behalf of plaintiffs who allege that they suffered such serious health complications as metallosis (metal poisoning), chromium and cobalt poisoning, swelling, and pain due to the early failure of the metal hip implant and in some cases, plaintiffs underwent surgery to replace the device. The hip implant lawsuits further allege that DePuy's ASR metal-on-metal hip systems were defectively designed and that DePuy and its parent company, Johnson & Johnson, did not adequately warn patients and health providers about its risk. Recent court records show that 7,761 DePuy ASR hip complaints have been filed in the U.S. District Court, Northern District of Ohio where DePuy ASR lawsuits have been consolidated for pretrial proceedings (In re: DePuy Orthopaedics, Inc. ASR Hip Implant Products Liability Litigation – MDL 2197)
Wright & Schulte LLC is currently representing numerous clients in DePuy ASR hip implant lawsuits and continues to offer free legal evaluations to hip replacement recipients who have had to undergo revision surgery due ot the recalled hip. To speak to one of the attorneys at Wright & Schulte LLC, call 1-800-399-0705 or visit yourlegalhelp.com for more information on this and other hip replacement lawsuit news.
The firm notes that in August 2013, DePuy issued a voluntary recall of its ASR hip system which first became available in the United States in December 2005. DePuy stated in its recall guide that it was recalling the devices after receiving new, then-unpublished data from the United Kingdom that showed a higher number of patients with ASR hip implants were having revision surgery. According to DePuy, hip implant patients who required revision surgery reported having a variety of problems, including pain, swelling and problems walking, before having their second surgery. DePuy explained that these symptoms might be due to loosening of the hip implant, the bone around the implant may have broken or the two parts of the implant that move against each other may no longer be aligned.
[depuysynthes.com/asrrecall]
The U.S. Food and Drug Administration noted that the U.K. data for the ASR hip implants showed the revision rates within five years was about 13 percent. The FDA also noted that metal-on-metal implant systems carry unique risks because metal can be released from parts of the implants as the patient walks or run. Over time, some of the metal ions (cobalt and chromium) from the implant or from the metal particles can enter a hip recipient's bloodstream. The metal particles can also lead to damage to the bone or tissue that is near the implant and joint. This adverse local tissue reaction due to the metal debris may lead to pain, implant loosening, device failure, and the need for removing the implant and replacing it with another one.
[fda.gov/MedicalDevices/ProductsandMedicalProcedures/ImplantsandProsthetics/MetalonMetalHipImplants/ucm241770.htm#2, July 2, 2014]
[fda.gov/MedicalDevices/ProductsandMedicalProcedures/ImplantsandProsthetics/MetalonMetalHipImplants/ucm241604.htm, January 17, 2013]
Bloomberg reported in October 2013 that DePuy agreed to pay nearly $2.5 billion to settle about 8,000 lawsuits with plaintiffs who had revision surgery to remove their metal-on-metal hip implants as of August 31, 2013. According to Bloomberg, the plaintiffs who had revision surgery would receive an average base settlement award of $250,000. The agreement also called for plaintiffs who underwent multiple revision surgeries to receive a supplemental award.
[bloomberg.com/news/2014-10-30/j-j-may-pay-250-million-to-settle-1-000-more-hip-claims.html, October 30, 2014]
Court records indicate that a status conference on the DePuy ASR hip implant litigation initially set for January 7, has been rescheduled to 10:30 a.m. January 30 at the U.S. District Court, Southern District of Florida in West Palm Beach, Florida. U.S. District Judge David Katz, who is managing the DePuy litigation, also extended a deadline to January 31 for ASR hip implant plaintiffs who have not undergone revision surgery to decide whether to dismiss their lawsuit against DePuy or continue with their lawsuit. An order issued by Judge Katz says plaintiffs who choose to dismiss their case may file their lawsuits again if they require revision surgery in the future. DePuy has agreed to toll, or suspend, the statute of limitations in those cases and the plaintiffs' newly filed DePuy ASR complaint will be considered a continuation of their previously filed DePuy ASR lawsuit, the judge's order said. (In re: DePuy Orthopaedics, Inc. ASR Hip Implant Products Liability Litigation – MDL 2197)
About Wright & Schulte LLC
Wright & Schulte LLC, an experienced defective medical device firm, is dedicated to the belief that America's legal system should work for the people. Every day, the attorneys of Wright Schulte LLC stand up for the rights of people who have been injured or wronged, and fight tirelessly to ensure those rights. If you're looking for a law firm that will guarantee the aggressive and personal representation you deserve, please do not hesitate to contact Wright & Schulte LLC today. Free DePuy ASR Hip Lawsuit case evaluations are available through yourlegalhelp.com, or call 1-888-365-2602.
Contact:
Wright & Schulte LLC
812 East National Road
Vandalia, Ohio 45377
1-800-399-0795
http://www.yourlegalhelp.com
Like us on Facebook
Follow us on Twitter
Join us on Google+