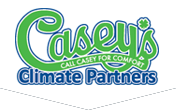 It was my pleasure to meet with Mr. Ackley and to be able to award him a new heating system for his home.
Milford, CT (PRWEB) January 16, 2015
Climate Partners encouraged their Facebook friends and loyal customers to participate in their 75th Anniversary Contest for the oldest heating system at the end of 2014, and the company is now proudly announcing that Bill Ackley, a resident of Fairfield, was the winner. The contest ran on Facebook from October 15, 2014, to November 15, 2014, and participants were asked to post pictures of their home heating systems and furnaces on Climate Partners' official Facebook page, with accompanying captions stating the year their heating system was installed. The winner of the contest was promised a new heating system, provided and installed by Climate Partners, up to $3,500 in value.
There were 22 individual entries, and as Climate Partners' owner Tom Casey explains, it took some time for the company to determine the winner -- HVAC experts from Climate Partners visited the home of the top 3 finalists in order to examine their furnace and determine its authenticity.
Ackley was determined to be the winner, with a home furnace dating back to the post-war era. Climate Partners has already begun installing Ackley's new furnace, and the company plans to have it completely installed by the end of January, 2015.
Casey explains that the company is extremely pleased with this contest -- not only because it gave the company a chance to engage with their customers on social media and drum up new business, but also because it gave Climate Partners a chance to give back to the community.
"It was my pleasure to meet with Mr. Ackley and to be able to award him a new heating system for his home," Casey states. "I've been working in this industry for many years and I've seen a lot of outdated systems that aren't functioning efficiently and need to be replaced. I'm happy that Climate Partners had the opportunity to make at least one home so much happier and healthier this winter."
About Climate Partners
Climate Partners, located in Milford, Connecticut, has been offering HVAC service, repair, and installation solutions to customers in the Fairfield and New Haven counties area for 75 years. For more information or inquiries, visit climatepartners.com.