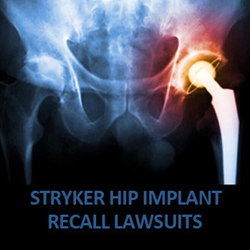 If you've suffered complications from the Stryker Hip Implant and would like more information on the settlement contact Wright & Schulte by calling 1-800-399-0795 or visit yourlegalhelp.com
Columbus, OH (PRWEB) January 19, 2015
A status conference on the Stryker hip replacement litigation pending in New Jersey's Bergen County Superior Court has been scheduled for January 20, Wright & Schulte LLC reports. The firm notes that parties involved in the Stryker Rejuvenate and ABG II modular-neck hip stems recall lawsuits will discuss updates regarding the lawsuits that have been consolidated in the state court for pretrial proceedings. Court records indicate that 2,160 Stryker hip lawsuits have been filed in Superior Court as of November 18, the latest update provided by the court. The complaints were filed on behalf of recipients of Stryker Rejuvenate and ABG II modular-neck hip stems who allege that the artificial hip implants caused serious health complications, including tissue damage, metal poisoning and pain. (In Re: Stryker Rejuvenate Hip Stem and the ABG II Modular Hip Stem Litigation, No. 296)
The status conference comes two months after Superior Court Judge Brian R. Martinotti announced that a blanket settlement agreement to resolve more than 3,000 cases had been reached. Martinotti, who is presiding over the Stryker Rejuvenate Hip Stem and the ABG II Modular-Neck Hip Stem litigation, said the settlement involves cases in Bergen County and the Stryker hip multidistrict litigation in the U.S. District Court, District of Minnesota. (In Re: Stryker Rejuvenate and ABG II Hip Implant Products Liability Litigation, MDL No. 2441) Under the November 3, 2014 settlement agreement, Stryker would pay a base award of $300,000 per failed implant. Hip implant recipients who were too ill to undergo revision surgery prior to November 3, 2014 are also eligible to receive compensation, according to the agreement.
[strykermodularhipsettlement.com/docs/master_settlement_agreement.pdf, November 3, 2014]
Wright & Schulte LLC represents numerous clients from across the country in Stryker Rejuvenate and ABG II Modular-Neck Hip Stems litigation who have undergone revision surgery to remove the implant system. To find out more about Stryker hip replacement lawsuits and for a free legal consultation, contact the attorneys at Wright & Schulte LLC at 1-800-399-0795 or visit http://www.yourlegalhelp.com . The firms attorneys are available 24 hours, 7 days a week to answer all your legal questions regarding Stryker hips and other hip replacement lawsuit information.
In addition to a meeting in New Jersey's Superior Court, court documents indicate that U.S. District Judge Donovan W. Frank has scheduled a status conference on January 22 for the Stryker Rejuvenate and ABG II Modular-Neck Hip Stems multidistrict litigation in Minnesota. On November 3, 2014, the day that the settlement agreement was announced in New Jersey, Judge Frank issued an order suspending discovery in the pretrial proceedings in Minnesota until September 1, 2015. Court records show that there are 2,271 Stryker hip lawsuits pending in the Minnesota federal court as of January 15, 2015. Prior to the settlement agreement, Judge Frank had directed attorneys to submit an agreed-upon list of cases for the bellwether trials which were scheduled for Summer 2015.
(In Re: Stryker Rejuvenate and ABG II Hip Implant Products Liability Litigation, MDL No. 2441)
[jpml.uscourts.gov/sites/jpml/files/Pending_MDL_Dockets_By_District-January-15-2015.pdf, January 15, 2015
Court records indicate bellwether trials were also scheduled in New Jersey's Bergen County Superior Court prior to the announcement of a settlement agreement. Attorneys for the plaintiffs and defendants were in the process of selecting cases for bellwether trials which Judge Martinotti had scheduled for June 15, 2015 and July 13, 2015. A case selected for a bellwether trial is a representative of a larger group of lawsuits that have the same common issues to resolve. The outcome of bellwether trials helps the parties to predict trends in similar cases tried in the future. (In Re: Stryker Rejuvenate Hip Stem and the ABG II Modular Hip Stem Litigation, No. 296)
In June 2012, Stryker recalled its Rejuvenate and ABG II hip stems after receiving reports that the medical devices had the potential to fret and corrode at the modular-neck junction. At the time of the recall, Stryker explained that the neck components of the Rejuvenate and ABG II are made of chromium and cobalt and the stems are coated with titanium. Therefore, the two parts can wear against each other and generate metallic debris which is released into the hip implant recipient's bloodstream or tissue, according to Stryker. The implant recipient can experience adverse local tissue reactions, swelling, persistent pain and other complications due to the metallic debris. Stryker advised hip implant recipients to undergo blood tests for metal ions and imaging screening, even if they do not have problems with their hips.
[stryker.com/en-us/products/Orthopaedics/modularneckstems/index.htm]
[literature.ortho.stryker.com/files/REJUV_COM_23.pdf]
About Wright & Schulte LLC
Wright & Schulte LLC, an experienced personal injury firm, is dedicated to the belief that America's legal system should work for the people. Every day, the attorneys of Wright & Schulte LLC stand up for the rights of people who have been injured or wronged and fight tirelessly to ensure that even the world's most powerful corporations take responsibility for their actions. If you're looking for a law firm that will guarantee the aggressive and personal representation you deserve, please do not hesitate to contact Wright & Schulte LLC today. Free Stryker Rejuvenate lawsuit and Stryker ABG II lawsuit case evaluations are available through yourlegalhelp.com or by calling 1-800-399-0795.
Contact:
Wright & Schulte LLC
812 East National Road
Vandalia, Ohio 45377
1-800-399-0795
http://www.yourlegalhelp.com