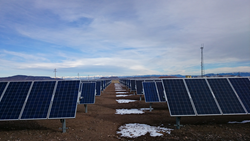 Community Energy has created a community solar garden for Antonito that provides an income stream to the county and a source of inexpensive energy for community members. - R. Brent Alderfer, Community Energy CEO
Superior, CO. (PRWEB) January 20, 2015
Key Equipment Finance, one of the nation's largest bank-held equipment finance companies and an affiliate of KeyCorp (NYSE: KEY), and Community Energy, Inc., a leading renewable energy development and marketing company, today announced the completion of a solar garden installation in Antonito, Colorado.
With $890,000 in financing from Key Equipment Finance, the 500-kilowatt solar array was installed on 3.2 acres on the edge of the southern Colorado town. Through a 20-year Power Purchase Agreement (PPA) with Antonito Solar, a subsidiary of Community Energy, the Town of Antonito and approximately 40 other solar garden subscribers receive a 10% discount on their electricity costs and get to participate in solar energy generation without putting it on their roofs.
"Working with our private and public partners, Community Energy has created a community solar garden for Antonito that provides an income stream to the county and a source of inexpensive energy for community members," said R. Brent Alderfer, CEO and founder of Community Energy. "With this project, the Town of Antonito and its forward-thinking community leaders are closer to their goal of becoming energy self-sufficient."
The installation of RenaSola panels with ATI single-axis trackers by Namasté Solar will follow the sun from east to west and generate over a million kilowatt hours of clean, renewable electricity annually, or enough to power about 100 homes.
"Namasté Solar would like to thank Community Energy and KeyCorp for the opportunity to bring renewable solar energy to Antonito," said Ben Griffin, commercial project developer, Namasté Solar. "This project represents an outstanding example of successful community solar in Colorado, and also demonstrates the city of Antonito's commitment to sustainability and renewable energy."
Colorado passed legislation in 2010 that created the Colorado Community Solar Gardens Act, allowing for a subscription model to make community solar garden development possible.
"Working with our partners, Key Equipment Finance was able to provide a creative financing solution to bring this project to fruition," said Doug Beebe, vice president, energy finance, for Key Equipment Finance. "We look forward to helping more communities realize the benefits of community solar gardens."
About Key Equipment Finance
Key Equipment Finance has been in the equipment finance business for 41 years and is one of the largest bank-based equipment finance providers in the U.S. The company provides tailored equipment lease and finance solutions for commercial clients and government entities. Through its manufacturer and vendor alliances unit, equipment finance programs are developed for manufacturers, distributors and resellers.
Key Equipment Finance's specialty finance group includes a specialty finance lending team, which provides structured facilities to various sectors of the specialty finance market, and a lease capital markets team to support corporations looking to optimize risk and revenue. Headquartered outside Denver, Colorado, Key Equipment Finance manages $9.1 billion in assets and originates $4.3 billion of equipment financing annually. For more information, visit http://www.keyequipmentfinance.com.
About KeyCorp
KeyCorp (NYSE: KEY) was organized more than 160 years ago and is headquartered in Cleveland, Ohio. One of the nation's largest bank-based financial services companies, Key has assets of approximately $89.8 billion at Sept. 30, 2014. Key provides deposit, lending, cash management and investment services to individuals, small and medium-sized businesses under the name of KeyBank N.A. Key also provides a broad range of sophisticated corporate and investment banking products, such as merger and acquisition advice, public and private debt and equity, syndications and derivatives to middle market companies in selected industries throughout the United States under the KeyBanc Capital Markets trade name. For more information, visit https://www.key.com/. KeyBank is Member FDIC.
About Community Energy
Since its inception in 1999, Community Energy has led the development and construction of more than 1000 MW of wind and solar generating facilities. Community Energy has used a pioneering mix of utility off-take approaches, renewable energy marketing programs, new financing structures, development expertise, and public funding and policy support to accelerate the deployment of renewable energy technologies at scale. With headquarters in Radnor, Pa and offices in Boulder, Colo., Community Energy has a strong presence in both western and eastern renewable energy markets. For more information about Community Energy, please visit http://www.communityenergysolar.com.
About Namasté Solar:
Namasté Solar is an employee-owned cooperative that designs, installs, and maintains solar electric systems for commercial, non-profit, government and residential customers throughout the United States. Based in Colorado, Namasté Solar has installed over 3,000 solar electric systems throughout the state and is currently celebrating its 10 year anniversary. Namasté Solar's unique business practices include democratic employee ownership, open-book management, and distributed leadership. For more information about Namasté Solar and to learn about the company's conscientious business practices, visit http://www.namastesolar.com.