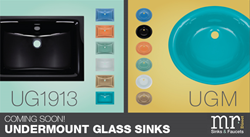 Now the concept of using glass in an undermount style bowl has come to fruition.
Toledo, OH (PRWEB) January 18, 2015
It has been on the drawing table for quite some time, and today MR Direct is proud to announce that a completely new line of sinks will be added to its already extensive portfolio of kitchen and bath vessels. The Glass Undermount Vanity Sink Collection will feature a total of fourteen new sinks for the bath. These bowls will be available in seven beautiful colors, each in an oval or rectangular form.
After comprehensive research and development, the MR Direct team decided to merge the best of two sink styles into one. Glass has always had its unique, glistening appeal in the bath; but usually as a vessel bowl resting above the vanity. Undermount sinks are runaway best sellers, but typically have been made of porcelain for the bath market. Now the concept of using glass in an undermount style bowl has come to fruition. The new oval UGM models and rectangular UG1913 units will officially become part of the MR Direct bathroom sink collection very soon.
These basins will mount in much the same way as any other sink designed for installation under the countertop. Mounting hardware will be included. The glass colors are the same as those available on MR Direct's 601, 603, and 640 glass vessel models. However, aside from the black and turquoise tones which are opaque, the other colors of aqua, emerald, coral, taupe, and clear will be frosted on their exteriors, which creates a glittering translucent appearance when set in the vanity.
As with all MR Direct glass basins, the glass of the UGM and UG1913 sinks is fully tempered. This strengthens the glass and causes it to break into tiny granules instead of dangerous shards in the unlikely event of the bowl breaking. The thickness of the glass proves its structural integrity, and its highly-polished interior provides a non-porous, sanitary surface. A review of these new sinks conclude that the UGM and UG1913 glass undermount sinks will be a wise and attractive choice in any bath.
Learn more about these upcoming models by visiting http://www.MRDirectint.com.