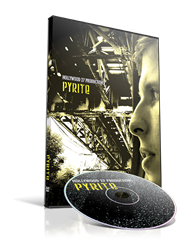 There is ALWAYS a way to make things better
Phoenix, AZ (PRWEB) January 19, 2015
In honor of Martin Luther King Jr. Day, independent filmmaker Eric Battersby (Change The World Films, Hollywood 27 Productions) today donates copies of his film PYRITE to organizations in Ferguson and the surrounding area, including the Ferguson Police and Fire Departments. "As someone who's fought against racism since my teen years," says Mr. Battersby, "watching the tragic events unfold in Ferguson really saddened me. We must all do more to help cross the racial divide in America, and this is just another step in the right direction. Movies about racism can be a catalyst."
The Chicago/Phoenix filmmaker says the idea came to him over the holidays while brainstorming new ways to help fight racism in America. "First of all, PYRITE has a very intense scene dealing with the Martin Luther King riots back in '68, so it really hits home on what that can do to a neighborhood. And second, at Hollywood 27, I've created racism programs for high schools and colleges, where I personally go out and speak to students to help them gain a better understanding of racism, and empower them to make a difference themselves. But I've also developed a program for Police and Fire Departments to help them overcome racism as well, and to re-connect with the communities they serve. I'm not just donating copies of PYRITE here... I'm offering my time to fly out to Missouri and help directly in those communities."
Growing up in Chicago, Battersby saw his fair share of racism, including several incidents involving police officers and firemen. His experience in dealing with those situations first hand, plus growing up with an ex-police officer for a stepfather, puts Eric in a somewhat unique position to help mend fences when it comes to racism.
"I've stood in front of a giant room full of people on multiple occasions and taken the racism conversation to places people had never thought of before. It's time to take that skill and put it to action in areas where the people involved are directly affected by racial roadblocks. There is always a way to make things better, people need to stop feeling powerless" Battersby says.
If any other nonprofit organization or municipality would like a free copy of PYRITE, including free supplemental materials, they can contact Eric directly at Hollywood 27 Productions either via email at Programs@hollywood27.com, or via phone at 949-278-4356.
To learn more online, visit http://www.hollywood27.com/.
About Hollywood 27 Productions: Formed in 1998, Hollywood 27 Productions is an independent film company focused on ending racism. With their feature film PYRITE (complete with free supplemental materials for hosting viewings and discussing racism), the END RACISM BLOG, and non-profit programs (run via Change The World Films), Hollywood 27 is one of the top sources in the world for learning about and fighting against racism. Visit Hollywood27.com for more details.
Hollywood 27 Productions
P.O. Box 13538
Mesa, AZ 85216
Contact: Eric Battersby
Email: Programs(at)Hollywood27(dot)com
http://www.hollywood27.com/