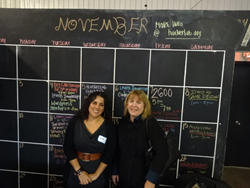 On February 11, Hacker Lab and Sierra College will host an informal meet-up for the local tech and maker community to come together and talk about the opening of Hacker Lab in Rocklin.
Rocklin, CA (PRWEB) January 17, 2015
Through a partnership with Hacker Lab in Sacramento, Sierra College is one of the first community colleges in the nation to establish a co-working space where entrepreneurs, programmers, students, free lancers, hobbyists and business representatives can connect, learn, innovate and form creative ventures.
The Sierra College Board of Trustees approved the lease of 3,782 sq. ft. space located at 4804 Granite Drive, Rocklin CA on January 13, 2015. The Hacker Lab in Rocklin is expected to open in March 2015. Sierra College is providing some of the equipment and Hacker Lab is managing services, classes and events. Membership discounts are available for Sierra College staff, students and faculty. The goal is to inspire innovation, support economic development, connect students to businesses, help start-ups and offer the community an opportunity to develop new skills, meet innovators and use state-of-the-art design tools.
According to Sierra College President Willy Duncan, partnering with Hacker Lab will enrich students' college experience and benefit the community. "The Hacker Lab team is experienced running a space that supports learning, entrepreneurship and inventiveness," said Duncan. "I am looking forward to seeing the results of turning creativity and innovation loose in the Rocklin Hacker Lab space this spring."
The community is invited to a mixer on Wednesday, February 11 at 6 PM at Boneshaker Community Brewery & Restaurant, 4810 Granite Dr., Suite A-1 in Rocklin, located in the same retail center as the new Hacker Lab. Learn more at: http://www.meetup.com/HackerLab/events/219791070/
Eric Ullrich, co-founder of Hacker Lab, is eager to connect with those interested in learning about the Rocklin Hacker Lab. "We look forward to a night of craft beer and announcements on February 11," said Ullrich. "This will be an informal meet-up for the local tech and maker community to come together, meet one another and talk about the upcoming opening of Hacker Lab in Rocklin." To be notified of meet-ups, discuss donating equipment, learn about corporate sponsorship and offer to teach classes, go to http://hackerlab.org/ or contact Eric Ullrich – eric(at)hackerlab(dot)org.
Members will have access to a desktop Shop Bot, industrial sewing machines, a 3D printer, a laser cutter, a computer lab, conference rooms, shared co-working office space and can also use the Midtown Hacker Lab facilities located at 1715 I St. in Sacramento. Community membership rates range from $45 for students to $149 for families. Most meet-ups and community events are free for the public to attend and classes are free with Resident membership. For non-members, classes are reasonably priced and range from $10 to $50. Hacker Lab also sponsors weekend Hackathons to help entrepreneurs fine-tune their start-up plans and connect with funders as well as events for children to introduce them to coding and making.
Carol Pepper-Kittredge, Director, Center for Applied Competitive Technologies (CACT), Sierra College, indicated that the new Rocklin Hacker Lab location will also provide skills training, prototype making and creative brainstorming space for employers.
"Businesses will benefit from the innovative atmosphere at Hacker Lab," said Pepper-Kittredge. "Employees can access design tools, connect with local experts and find student interns to work on special projects. Sierra College CACT has supplied 3D printers for both Hacker Lab locations that can be used to cost-effectively create prototypes for new products."
For more information, go to the Hacker Lab Website.
About Sierra College CACT
Sierra College Center for Applied Competitive Technologies (CACT) is focused on Advanced Manufacturing training and development, and is funded through the Workforce and Economic Development program of the California Community College Chancellor's Office. Since 1992, the Sierra College CACT has provided customized training for organizations, manufacturers and technology companies throughout Northern California. Through the Sierra STEM Collaborative, Sierra College works with college faculty as well as middle and high schools to promote STEM Education and careers. Additional information is available at http://www.sierracollegetraining.com and http://www.sierraschoolworks.com or contact Carol Pepper-Kittredge at 916-660-7801 or cpepper-kittredge(at)sierracollege(dot)edu.