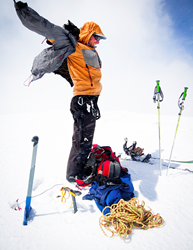 Bozeman, MT (PRWEB) January 16, 2015
Local Bozeman product, Jelt, is taking on Salt Lake City next week as one of the newest vendors showing at the Outdoor Retailer Winter 2014 Trade Show. Jelt has proven to be a product that can be used no matter what industry you participate in, and this is no different for the snow sports industry! Riders, hikers and bikers alike can all use the Jelt for one main purpose, to "Keep Their Pants On," and the company is excited to show the versatility of their product and hopefully advance into multiple channels of the outdoor winter sports marketplace at this years event.
The Jelt is not just a normal belt, the stretchy elastic and extra grippy gel on the inside keeps your pants in place when your taking on any outdoor activity and the lightweight design is ideal for those long backpacks or traverses. The materials are all made from recycled resources as well, making this product good for the environment you play in too.
Jelt is making moves in the outdoor industry with a growing recognition for its innovative design elements and materials. This new product is small but powerful and has so much to offer its large demographic of consumer. And with this opportunity to show at the winter retail show, Jelt has a chance to access and influence buyers and media, meet attendee principles face-to-face and show what the Jelt can really do for this industry. The team is eager and ready to show!
Hear the buzz, learn about Jelt and other trends in winter sports products and find out which brands are catching consumer and media attention at the Outdoor Retailer Wednesday, January 20 – Saturday, January 23 at The Salt Palace Convention Center.