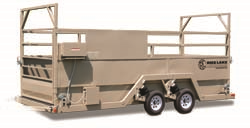 Rice Lake, Wis. (PRWEB) January 27, 2015
Rice Lake Weighing Systems will be in attendance and exhibiting the cattle industry's only Legal for Trade mobile livestock scale at the National Cattlemen's Beef Association (NCBA) convention February 4-7th in San Antonio, Texas. NCBA is one of the oldest and most attended expositions in the cattle industry. The 117th annual NCBA convention aims for members to discover new products and services in the cattle beef industry.
Visitors to booth #346 will learn how a Rice Lake Legal for Trade mobile livestock scale can increase their livestock business revenue. On average, sellers who rely on Rice Lake's mobile livestock scale instantly recover 5 to 6% of their profits by minimizing shrink loss. Tow the scale behind any standard vehicle and weigh the herd in pasture, lot or sales ring. The scale's patented design consists of a deck and pen sides, suspended on load cells within a portable base frame. It is Legal for Trade, even when off-level up to four degrees, and there is no need to recalibrate or recertify after relocation.
From mobile, portable and stationary animal scales, to livestock ring scales, farm bar load systems and agriculture utility scales, Rice Lake has livestock solutions that can make a measurable difference in your farming and agriculture applications. Visit http://www.ricelake.com/cattlescales for more information.
Rice Lake Weighing Systems is an international leader in the direct manufacture and distribution of weight-related products and process control equipment. Within this ISO 9001 registered company, progressive new technologies merge with the wisdom of industry experience to create the future of weighing through cutting-edge research and design.