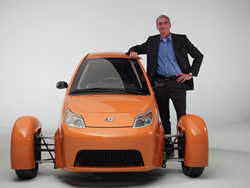 We are currently working on several financial strategies, and are confident funding will be secured.
Shreveport, LA (PRWEB) January 16, 2015
Elio Motors, which is launching a $6,800 vehicle that will get up to 84 MPG, today announced that it is now targeting production first half of 2016 and will not enter production phase in late 2015.
The company is pursuing a variety of financing strategies, the sale of surplus equipment from the Shreveport facility and several private financing options. As soon as one of these options comes through, Elio Motors will be able to pinpoint a specific date for the vehicle launch.
It is important to emphasize that Elio Motors has an extraordinary asset of surplus equipment located in the Shreveport plant. Currently Elio has $17 million of its surplus equipment listed for sale (http://ebay.to/1ucPeTV), which represents less than 15% of the surplus assets listed. This is just one viable option that insures our capital needs will be met for the next stage.
Elio Motors has also retained Corporate Fuel Securities, a New York-based FINRA registered broker dealer to act as financial advisor and placement agent in its fundraising efforts.
"We are currently working on several financial strategies, and are confident funding will be secured," said Paul Elio, CEO of Elio Motors. "It is too premature to provide an anticipated 2016 production date at this time. But, whichever financing strategy has the shortest path to completion will be the one that sets up the rest of the timeline."
Elio Motors continues to make significant progress in its mission to change the way Americans think about commuting. The design of the enclosed three-wheeled vehicle is nearly complete and the company has secured a world-class manufacturing facility in Shreveport where General Motors previously built the Hummer H3 and Chevy Colorado. The vehicle has developed an enthusiastic grass-roots following and nearly 40,000 people have made reservations for a spot in line to buy one when they go to production. The vehicle was recently named by CNET.com readers as the item they would most like to take home from the Consumer Electronics Show, beating out new products from tech giants such as Samsung and HP (http://bit.ly/1C7pFYQ).
"Our team continues to push forward relentlessly every day and we are making significant progress as we push toward our ultimate goal of production," Elio said. "We recognize that our consumers anxiously await a firm production launch date for the first half of 2016 and we hope to secure the necessary funding to make this happen sooner than later. I, our team and our Board of Directors are committed to bringing a world-class vehicle to market and no one wants this to happen more quickly than the Elio Motors team."
When the Elio goes to market, it will create 1,500 jobs at the company. In addition, the Elio will use 90 percent North American content, creating another 1,500 jobs at its supplier partner companies. These manufacturing jobs will in turn create approximately 18,000 indirect jobs across the country.
Elio Motors sees multiple markets for its vehicle, including consumers who still need the occasional functionality of a pick-up truck, sport utility vehicle or minivan, but are looking for an affordable, fuel efficient vehicle for their solo driving. The company sees the Elio as an "and" vehicle – purchase a larger vehicle for those times when you need the functionality, but use the Elio for solo commuter trips. For example, 76.3 percent of all commuters drive solo to work every morning according to the U.S. Census Bureau.
About Elio Motors
Founded by car enthusiast Paul Elio in 2008, Elio Motors Inc. represents a revolutionary approach to manufacturing an ultra-high-mileage vehicle. The three-wheeled Elio is engineered to attain a highway mileage rating of up to 84 mpg while providing the comfort of amenities such as power windows, power door lock and air conditioning, accompanied by the safety of multiple air bags and an aerodynamic, enclosed vehicle body. Elio's first manufacturing site will be in Shreveport, La. For more information, visit http://www.eliomotors.com or http://www.facebook.com/ElioMotors.