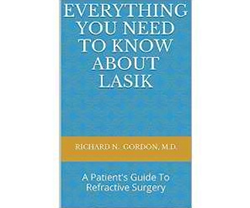 "Everything You Need To Know About LASIK is designed to give patients the experience of a consultation at the practice in book form." - Dr. Richard Gordon
Pomona, NY (PRWEB) January 19, 2015
Dr. Richard Gordon of Palisades Laser Eye Center is pleased to announce the publication and release of his new book, Everything You Need To Know About LASIK: A Patient's Guide to Refractive Surgery. Available as an ebook and in paperback on Amazon, Dr. Gordon's book tries to give prospective refractive surgery patients the information that they need to determine if LASIK is ideal for them.
"At Palisades Laser Eye Center, we always try to make sure that patients understand the risks, benefits, and side effects of LASIK," said Dr. Gordon. "Everything You Need To Know About LASIK is designed to give patients the experience of a consultation at the practice in book form."
What You Should Know About "Everything You Need To Know About LASIK"
Everything You Need to Know About LASIK was released on December 14, 2014 through Kindle Direct Publishing (KDP), and is also available in paperback through Amazon as well. The book offers a concise rundown of the LASIK surgery process, which is accomplished in five chapters. Dr. Gordon used his years of experience as a LASIK surgeon to ensure the book was written with patients in mind, avoiding dense, technical language that can make the basics of LASIK difficult to understand.
The book includes a number of illustrations to supplement the clear language and a careful breakdown of the LASIK process. The use of images in the book helps make concepts clear and improves overall understanding about what LASIK surgery involves and what it can achieve.
"After performing literally thousands of vision correction procedures in my career, I've come to understand the needs of patients in a very real and direct way," said Dr. Gordon. "I've revisited many of the questions and concerns from my actual LASIK patients when I wrote this book."
Everything You Need to Know About LASIK is available on amazon.com and amazon.co.uk.
Patient Education Remains a Key to Great Vision Correction
"If you want to know if LASIK is right for you, you need to have facts," Dr. Gordon added. "Knowledge is empowering for patients, and it's important for eye care professionals to help educate patients during each phase of treatment."
This commitment to patient care is present in Everything You Need To Know About LASIK, and Dr. Gordon makes it a cornerstone of care at Palisades Laser Eye Center.
About Dr. Richard Gordon
Dr. Richard Gordon is one of the most well regarded ophthalmologists in the Hudson Valley area. Dr. Gordon graduated with honors from Amherst College and completed medical school at the New York University School of Medicine.
Dr. Gordon has been published in major eye care journals, including The American Journal of Ophthalmology, Eye, The Journal of Neuro-Ophthalmology, and Investigative Ophthalmology and Visual Science. Dr. Gordon is also a reviewer for Ophthalmology, the official journal of the American Academy of Ophthalmology.
Dr. Gordon is a member of the following professional organizations and societies:
The American Academy of Ophthalmology
The American Society of Cataract and Refractive Surgery
The International Society of Cataract and Refractive Surgery
The American Glaucoma Society
The New York Ophthalmology Society
Learn More About LASIK at Palisades Laser Eye Center
For more information about LASIK surgery and other advanced eye care treatments, it's important to get in touch with Dr. Gordon. Interested parties can contact Palisades Laser Eye Center online, or contact the practice directly using the information below.
Palisades Laser Eye Center
3 Medical Park Drive
Pomona, New York 10970
(845) 364-9767
Originally posted by Richard Gordon