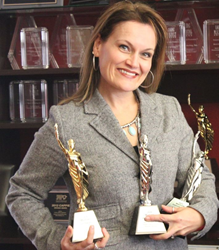 We're a boutique marketing firm, but we produce remarkable results on a national scale because we are always willing to go the extra mile for our clients. - Debi Hammond, founder and CEO of Merlot Marketing
Sacramento, CA (PRWEB) January 19, 2015
Merlot Marketing, the California-based, full-service national marketing and communications agency, won 7 MarCom Awards from the Association of Marketing and Communication Professionals (AMCP). The prestigious competition received 6,000 entries from agencies in 34 countries.
"We're a boutique marketing firm, but we produce remarkable results on a national scale because we are always willing to go the extra mile for our clients," says Debi Hammond, founder and CEO of Merlot Marketing. "It's an honor for our talented team to be recognized by AMCP for its hard work and dedication."
The agency received acclaim for work on national and local campaigns. A total of 7 awards were presented for excellence across a wide range of sub-categories, including: consumer print and branding campaigns, website development, ad copywriting and international tradeshow booth design.
The MarCom Awards represent the most recent winnings in a series of accolades the agency has received, including six Public Relations Society of America (PRSA) Influence Awards in November 2014.
With no time to slow down and celebrate, Merlot Marketing will be representing five national brands during the upcoming National Design & Construction Week's Kitchen and Bath Industry Show (KBIS) and International Builder's Show (IBS) in Las Vegas January 20 – 22. The agency has plans to further expand its public relations and creative teams in the coming year.
###
Media Notes:
About Merlot Marketing
Founded in 2001, Merlot Marketing is an award-winning, national agency helping companies rediscover their brand position through its exclusive REDiscover™ process. Headquartered in Northern California, Merlot Marketing specializes in marketing strategy, public relations, social media, advertising and digital communications. Think RED. Think Passion. Discover Merlot at http://www.merlotmarketing.com or call 916-285-9835. Follow on Twitter @MerlotMarketing.
About The MarCom Awards
The MarCom statuette graces the trophy cases of some of the top business and communication firms in the world. The MarCom competition has grown to perhaps the largest of its kind in the world with about 6,000 entries per year. A look at the winners shows a range in size from individuals to media conglomerates and Fortune 50 companies. The competition is so well thought of in the industry that national public relations organizations, local ad clubs, and local business communicator chapters are entrants.