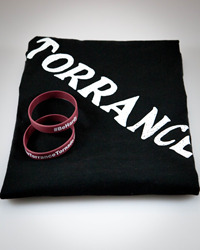 Torrance, Calif. (PRWEB) January 26, 2015
Discover Torrance has partnered with Clay Zamperini, grandson of World War II Hero Louis Zamperini, to support Louis' charity, Victory Boys Camp. Representatives worked with Clay to produce t-shirts and wristbands that were passed out at the local premier of "Unbroken," the Hollywood film paying homage to Louis' life.
The products were created as a tangible way for people to get behind the movement to help troubled young boys and support Victory Boys Camp, continuing Louis' legacy. The shirts were designed in honor of the shirt Louis wore when he ran for Torrance High School.
"In 1954 my grandfather was asked to speak to a group of kids, aged 16 to 20, who were incarcerated for a variety of crimes," Clay said. "He knew that as a once troubled young man himself, a lecture wouldn't get through, it would take something more. It was at that moment that he decided to get involved on a more personal level and he started Victory Boys Camp."
The t-shirts and wristbands are being sold as bundles and 100 percent of the proceeds will go to Victory Boys Camp. The Torrance Historical Society is selling the bundle for $20, cash or check only. Interested parties can also purchase by emailing tshirt(at)thetorrancetornado(dot)com. Cost will be $20 plus shipping. Additionally, shirt and wristband bundles will be available for purchase at a variety of events, including the Torrance Historical Society's upcoming birthday celebration and book signing honoring what would have been Louis' 98th birthday, taking place on January 25th.
Victory Boys Camp is a nonprofit youth program, which operates purely on donations, that aims to improve the self-esteem levels of troubled young boys, thus helping them turn their lives around.
For information about Louis Zamperini, visit TheTorranceTornado.com. For more information about Victory Boys Camp, visit VictoryBoysCamp.org.
About Discover Torrance
Discover Torrance offers a little bit of everything California. From South Bay's finest beach with surfing and paddle boarding, to fantastic food, affordable lodging, family-friendly activities and one of the largest shopping malls in the United States – Del Amo Fashion Center – Torrance offers something for every traveler. Boasting the eighth largest city in Los Angeles County, Torrance is conveniently located 10 miles south of Los Angeles Airport and 17 miles north of Long Beach Airport. For lodging, event calendar and additional information, visit DiscoverTorrance.com or call (310) 802-7777.
About Victory Boys Camp
Victory Boys Camp was established in 1954 when founder Louis Zamperini recognized a need for support for troubled young boys. The non-profit organization inspires disadvantaged youth to take control of their own lives by cultivating self-respect through athletics, survival skills and wilderness experiences. For more about Victory Boys Camp, visit VictoryBoysCamp.org.
###