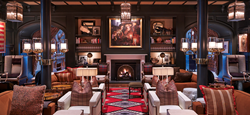 Aspen, Colorado (PRWEB) January 19, 2015
The iconic retreat in Aspen, Colo., Hotel Jerome, an Auberge Resort, has been recognized as a Grand Award winner by the discerning team at Andrew Harper's Hideaway Report. Only one of four hotels in the U.S. to receive this years' honor, the Grand Award list is an editor-selected collection of the world's most memorable properties that should not be missed in 2015.
"To be recognized by Andrew Harper and his team at the Hideaway Report is a true honor, and we are thrilled to see Hotel Jerome's name among the list of the 2015 Grand Award winners," said Tony DiLuca, General Manager, Hotel Jerome. "This recognition is a nod to our dedicated staff who continues to create memorable experiences for visitors and the local Aspen community."
Hotel Jerome originally opened in 1889 and has since been an institution for locals and visitors from the early silver-mining days of the late-1800s. The historic 125-year-old hotel completed an extensive renovation in December 2012 that preserved its iconic mountain spirit while bringing a new vision of luxury accommodations and thoughtful programing to allow travelers and locals to intimately and authentically explore Aspen year-round.
The discerning Grand Awards identify select intimate properties with strong individual personalities, relaxing atmospheres and a consistent devotion to personal service that leave lasting impressions for travelers. The 2015 Grand Award winners was announced in the January 2015 issue of Andrew Harper's Hideaway Report and can also be viewed online at andrewharper.com. For more information on Hotel Jerome and Auberge Resorts, please visit http://hoteljerome.aubergeresorts.com/.
About Hotel Jerome
Located in the heart of town, the 93-room Hotel Jerome, an Auberge Resort, continues to retain its identity as one of the great hotels of the American West. In December 2012, Aspen's legendary crown jewel, unveiled a complete redesign of the 125-year-old historic landmark featuring a new vision of luxury with contemporary accommodations and modern amenities that honor the property's iconic mountain spirit. The new experiences include regionally-inspired culinary programs, monthly wine dinners and cooking classes as part of the Auberge Resorts Food of Place program as well as lavish seasonal Auberge Adventures, created exclusively for hotel guests providing intimate ways to explore Aspen all year long. For more information on Hotel Jerome, please visit http://hoteljerome.aubergeresorts.com/. Follow Hotel Jerome on Facebook at http://www.facebook.com/hoteljeromeaspen, on Twitter @HotelJerome or on Pinterest at http://pinterest.com/hoteljerome/.
About Auberge Resorts Collection
Auberge Resorts Collection owns and operates a portfolio of exceptional hotels, resorts, residences and private clubs under two distinct brands: Auberge Hotels and Resorts, timeless luxury properties acclaimed for their intimate, understated elegance, and VieVage Hotels and Resorts, a new lifestyle brand that brings together contemporary themes of design, community and wellness in a fresh, active and social environment. While Auberge nurtures the individuality of each property, all share a crafted approach to luxury that is expressed through captivating design, exceptional cuisine and spas, and gracious yet unobtrusive service. Properties in the Auberge Resorts Collection include: Auberge du Soleil and Calistoga Ranch, Napa Valley, Calif.; Esperanza, Cabo San Lucas, Mexico; Hotel Jerome, Aspen, Colo.; Malliouhana, Anguilla; Nanuku Auberge Resort Fiji, Fiji; The Auberge Residences at Element 52, Telluride, Colo.; Pronghorn Resort, Bend, Ore.; VieVage Napa Valley, Calif; and Auberge Beach Residences and Spa, Fort Lauderdale, Florida; with several others in development. For more information about Auberge Resorts Collection, please visit http://www.aubergeresorts.com/. Follow Auberge Resorts Collection on Facebook at facebook.com/AubergeResorts and on Twitter at @AubergeResorts.
Media Contact:
Ashley King / Robyn Moore
Murphy O'Brien Public Relations
310-586-7126 / 310-586-7179
aking(at)murphyobrien(dot)com