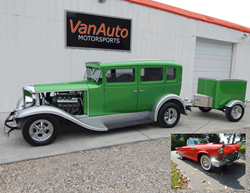 Kissimmee, FL (PRWEB) January 17, 2015
VanAuto will be participating at the Mecum Auction in Kissimmee, FL on January 14th – January 25th. During that time, they will feature 2 cars: a 1932 Reo and a 1957 Thunderbird. For non-local coverage, please follow their social media accounts for updates or tune in to NBCSports.
About VanAuto
VanAuto, located at 2501 Kratzville Rd. in Evansville, IN 47710, specializes in buying and selling classic, muscle and imports from show cars to daily drivers. The dealership, whose personnel strives to accommodate all transactions with great support and service, also carries a selection of fleet vehicles for personal and business use. The VanAuto sales team eagerly awaits the opportunity to find the investment that provides the perfect fit meeting your quality, style and personality; they can be contacted at 812-702-4697.
About Mecum Auctions
Mecum Auctions is headquartered in Walworth, WI., and since 2011 has been ranked No. 1 in the world with number of collector cars offered at auction, No. 1 in the world with number of collector cars sold at auction, No. 1 in the U.S. with number of auction venues, No. 1 in the U.S. in total dollar volume of sales, and is host to the world's largest collector car auction held annually in Kissimmee, Fla.