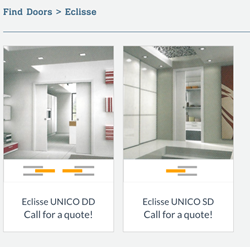 The Eclisse Pocket Sliding Door system slides directly into the wall
GARDENA, Cal. (PRWEB) January 20, 2015
Door Store America is pleased to announce the introduction of the state-of-the art Eclisse Pocket Sliding Door System, a great option for homeowners looking for an alternative to traditional hinged doors.
Installing hinged doors can pose some challenges. The door's swing path creates unusable space, as well as a restriction of traffic flow. The Eclisse Pocket Sliding Door system slides directly into the wall, effectively eliminating the restraints of hinged doors.
The Eclisse system is an elegant, practical alternative for every living space – a framework that forms part of the wall and allows doors to slide effortlessly inside the wall, creating more usable space. It is estimated that in an average home, more than 8% extra space can be utilized by the use of sliding pocket doors.
Eclisse offers a self-closing system—once opened, the door closes itself automatically. The Eclisse BIAS, Built In Anti Slam, is the soft closer for the Eclisse sliding pocket door system. The BIAS feature is fully integrated inside the rail, invisible from the outside, and can be added to any Eclisse Single or Double Pocket Door system. Double doors coordination with soft closing allows the simultaneous opening and closing of both doors, while only moving one of them.
Features of the Eclisse Sliding Pocket Door System include:

Two adjustable doorstops: The first doorstop is factory set to stop the door 2-3/4" from the edge of the pocket. The second is designed to lightly hold the door in the closed position to prevent bounceback.
Maintenance-free track and runners: Four sealed, chrome steel ball bearings in an enclosed track prevent derailing and provide a smooth, reliable action.
Extractable track system: The Eclisse system has a patented extractable track which allows the complete removal of the running track at any time without breaking the wall.
Horizontal reinforced bars: Specially formed from galvanized steel, these bars have a dovetail form that greatly increases the strength and reduces flex.
Vertical reinforced bars: Eclisse verticals are specially formed from galvanized steel, which greatly increases the strength and reduces flex.
Door guide: Quickly and easily fits the frame with no holes to drill, this guide guarantees a perfectly centered position.
About Door Store America
Door Store America sources the finest doors in the market from top manufacturers that utilize advanced, state of the art woodworking technology. Door Store America's product lines include only the finest quality merchandise to meet any budget's price point, from an inexpensive builder's door to the most extravagant entry units. Door Store America offers a huge inventory of ready to go doors in various styles, sizes, and wood species to satisfy every taste and design. Through partnerships with top name manufacturers and vendors, Door Store America can ensure that each product's quality exceeds the expectations of clients.
For more information about the Eclisse Sliding Pocket Door System, call Door Store America at 800-504-0506 or email at info(at)doorstoreamerica(dot)com.