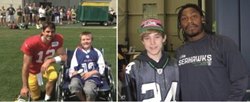 HOLIDAY, Fla. (PRWEB) January 16, 2015
Wish Kids Jake and Cody will both be on the edge of their seats this Sunday as their favorite teams and Wish Sponsors, the Seattle Seahawks and Green Bay Packers, face off in the NFC Championship game.
The teams will be fighting for a spot in NFL Super Bowl XLIX, and just like the teams, the Wish Kids have also been fighting to come out on top. For Jake and Cody, however, the fight isn't for a championship. It's for their lives.
Jake, from Washington, was born with cystic fibrosis, a life-threatening lung condition, and has been in and out of the hospital constantly since he was born. He takes daily medications, endures nebulizer and breathing vest treatments and has been on IV antibiotics multiple times. One thing that helps Jake cope with his incurable illness is watching football, especially when his Wish Sponsors, the Seahawks, are playing. The team's drive to stay the best inspires Jake to keep fighting against his illness, and he will always have the memories of his wish to give him strength.
"The wish was amazing," said Jake's mother, Lisa. "The look on Jake's face was incredible – he was just glowing. Everyone was just so kind, and the Seahawks paid so much attention to him…it was a significant event in all of our lives, and we will remember this for a long, long time."
For his wish trip, Jake and his family spent the weekend in Seattle where he toured the Seahawks facility and bonded with the players before the game. While on the field during pregame, Jake met Marshawn Lynch who presented Jake with his own practice-worn gloves and a personalized autographed jersey. Jake also received a huge bag full of Seahawks gear, signed autographs and posed for pictures.
Jake will certainly be cheering loudly for his team, while another Wish Kid several states away will be cheering for the opposite.
Cody, from Wisconsin, suffers from end stage renal disease and is hoping that a great showing by the Packers quarterback, Aaron Rodgers, can lead to a Green Bay victory. Misdiagnosed with a bladder defect as an infant, Cody developed severe kidney damage and required a transplant at 5 years old. While he faced complications after that surgery, he was doing well until a virus damaged his transplant organ. Cody was started on dialysis in 2013 and is still awaiting a new kidney.
Despite his life-threatening situation, Cody always manages to cheer on his favorite team and players. He understands that they work hard to win games, and their drive gives Cody the motivation to battle his illness. Cody's memories from his wish with the Green Bay Packers help keep him fighting.
When Cody arrived at Lambeau Field for his wish, he was given a tour of the entire facility, watched the players practice, and ate lunch with the team in their cafeteria. The Packers also set up a locker for Cody complete with a custom jersey and gear. Cody met with many of the players, including Aaron Rodgers and Clay Matthews.
"Cody is really excited for Sunday's game," says his mom Debbie. "He loves the team, even more now after his wish. Everyone was so nice and kind to Cody. We have unforgettable memories."
Both Jake and Cody will be attentively watching this weekend's game.
Kids Wish Network would like to again thank both teams for participating as Guardian Angels and helping make Jake and Cody's dreams come true. Kids Wish Network's mission wouldn't be possible without its Guardian Angel family of generous individuals and businesses who donate their time and resources to help the organization's continued efforts to bring joy and comfort to tens of thousands of children all over the country.
Kids Wish Network wishes both the Seahawks and the Packers luck in Sunday's game.
Kids Wish Network is a charitable organization dedicated to infusing hope, creating happy memories, and improving the quality of life for children having experienced life-altering situations. To find out how you can help make dreams come true for deserving kids, please visit http://www.kidswishnetwork.org.