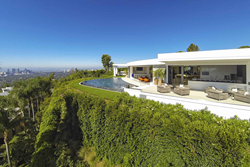 Los Angeles (PRWEB) January 21, 2015
At the close of 2013, even the most expensive homes in Beverly Hills were listed at the high end of $30 million. Fast forward to the close of 2014, where the bar now stands at $70 million by virtue of Ferrugio Design + Associates, whose team of talented designers ushered in a new era of luxury modern homes.
The 23,000-square-foot hilltop was enough to entice a bidding war between the likes of Minecraft billionaire Markus Persson and Beyonce and Jay Z for the custom-built mansion and its designer contents.
This dream became a reality for Los Angeles interior designer Joseph Ferrugio, founder of Ferrugio Design + Associates, when luxury home developer Bruce Makowsky selected Ferrugio to help him create a seven-bedroom, 16-bathroom trophy mansion on a promontory view property complete with automated glass doors that open to an infinity pool, a home theater seating 18 and a wine cellar spacious enough for 2,500 bottles. The home at 1181 North Hillcrest Road in Trousdale Estates closed in six days and sold for a record-breaking $70 million, the most any buyer has ever paid for a luxury home in Beverly Hills.
"I am so proud to have been instrumental in this project and to have had the opportunity to utilize the skills I developed while at Woodbury University," Ferrugio said.
"Opportunities of this magnitude are rare," said Christoph Korner, chair of Woodbury's Interior Architecture Department, School of Architecture. "To have been selected for such an assignment so early in his career is really quite extraordinary. We take great pride in the successes of our graduates and are extremely pleased to have played a role in Joseph's development as an interior architect."
When asked about his inspiration for the home, Ferrugio offered this: "We asked ourselves: If members of the Rat Pack were alive in 2014, how would they live?" Ferrugio and his team, two of whom are also Woodbury alumni, enlisted art galleries, bespoke artisans and engineers to furnish the mansion with artifacts and fixtures such as the life-size Bumblebee Transformer replica and the 180 Murano glass pendant chandeliers, among many other items custom made for the estate.
"We wanted to create a world-class home that had no limits on luxury in every aspect," Ferrugio said. Ferrugio Design + Associates current slate of projects for 2015 total more than 200,000 square feet of space and command a real estate value in excess of $400 million.
About Ferrugio Designs + Associates
Ferrugio Design + Associates is an international design firm with an extensive portfolio of hospitality and high-end residential projects for the world's leading companies, brands and Forbes Top Billionaires. With over a decade of design experience, founder Joseph Ferrugio and his team, have been recognized by numerous organizations, professionals, and peers for creating innovative conceptual spaces that revolve around modern functionality. The firm boasts over 10 million square feet of design built exclusively for luxury clients. Each project is conceived individually and maintains a sense of its contextual surroundings enhanced by a luxurious, comfortable and sophisticated environment. The firm is always looking to bring on and nurture new talent. For inquiries, visit ferrugiodesign.com.
About Woodbury University
Founded in 1884, Woodbury University is one of the oldest institutions of higher education in Southern California. It offers bachelor's degrees from the School of Architecture, School of Business, School of Media, Culture & Design, and College of Transdisciplinarity, along with a Master of Arts in Media for Social Justice, Master of Architecture (MArch), Master of Interior Architecture (MIA), Master of Science in Architecture (MSArch), and Master of Leadership. The San Diego campus offers Bachelor of Architecture and Master of Architecture degrees, as well as an MSArch degree with concentrations in Real Estate Development and Landscape + Urbanism. Woodbury ranks 15th among the nation's "25 Colleges That Add the Most Value," according to Money Magazine. Visit http://www.woodbury.edu for more information.