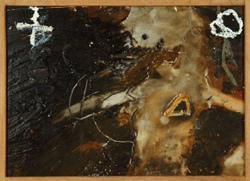 These opposing senses of space lend themselves to a dialogue between the intimate and universal.
Atlanta, GA (PRWEB) January 19, 2015
Bill Lowe Gallery presents Primal Poetry, an examination of primitive forms, symbols, indigenous cultures and their enduring impact on the contemporary psyche. James Havard and Michel Meyer, much like the romantic poets of the late 18th century, approach painting with a strong belief in the senses and emotions, rather than reason and intellect. Both artists present an application of gestures and symbols imbued with lyrical, sublime, sometimes naive strokes in contrasting compositional density. These opposing senses of space lend themselves to a dialogue between the intimate and universal.
James Havard's illustrious career has spanned more than fifty years, and his work is included in many private and public collections, including the Guggenheim Museum, New York; the Smithsonian Institution, Washington, D.C. and the Museum of Modern Art, New York.
His highly individual work draws inspiration from Native American and African tribal cultures, as well as cave paintings and children's drawings. It is often full of inner demons and dark, multicultural symbols. Yet they are also affectively humorous, endowed with qualities that we recognize immediately as inherent to the human condition.
Though conceived to fool the eye, Havard's paintings are at once daring and subtle, complex in scheme and simplistic in symbolic reference. With their consistent play of space and light, their lush, almost elegant use of paint and wax, their concern with a vocabulary of primitive symbols, they contradict preconceived notions of order by being simultaneously decorative and refined, structured and loose, innocent and sophisticated. They are totally disarming.
German-born Michel Meyer's art functions in the true Romantic sense: the known and the familiar become surprisingly remote and mysterious. As you look, you experience a recurring jolt (mostly pleasant), a sudden awareness. And it is herein that the real pleasure and enjoyment in Michel Meyer's paintings is to be found.
Meyer's works flit between figure and abstraction, and are expressively colorful and full of symbols. What lies behind them may be a glimpse into the human psyche, but in any case generates – now distorted in the manner of a caricature, now with marvelously muted poetry – a certain tension.
Composing painting much like Romantic-Poet Novalis, Meyer gives "the ordinary a higher value, the usual an element of secrecy, the well-known the value of the unknown and the finite the appearance of infinity".
Bill Lowe Gallery presents a survey of primary works by Meyer spanning over a decade
-
BILL LOWE GALLERY has for a quarter of a century ranked as the south's pre-eminent contemporary gallery. It sanctions a vigorous advocacy of potent primary and alternative voices in art.
The gallery represents artists from around the globe who share powerful and eloquent visions supported by a highly advanced mastery of their media. The visceral emotionality and sheer physicality of its work lends a highly theatrical flavor to the gallery's offering. Thematically, the gallery's aesthetic is characterized by a metaphysical yearning articulated by process and imagery which is strongly psycho-spiritual and psycho-sexual in nature.
Share and engage with the Bill Lowe Gallery on Instagram (@billlowegallery), Twitter (@billlowegallery) and Tumblr (@billlowegallery) via hashtags #primalpoetry #lowegallery.