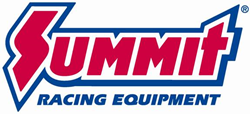 Tallmadge, OH (PRWEB) January 21, 2015
PAC Racing valve springs are CNC-coiled from high-tensile strength Pacaloy™ chrome-silicon steel and are double shot-peened beyond Aerospace Material Specifications (AMS) reliability standards. That means PAC Racing springs have excellent fatigue resistance and hold their load rating longer than other valve springs.
Summit Racing carries several types of PAC Racing Valve Springs:
1200 and 1300 Series Drag Racing Springs
The 1200 Series springs are for ideal street/strip and bracket racing engines. They are available in single, dual, and triple-spring versions with load ratings from 191 lbs./inch to 743 lbs./inch. The 1300 Series springs are for serious race engines, and have chamfered and polished coils to handle extreme rpm. The dual valve springs are available in load ratings from 670 to 847 lbs./inch.
Beehive Valve Springs
PAC Racing's Beehive springs offer heavy duty spring rates, but fit inside stock spring seat and can use stock-style retainers. The small diameter top coil allows the use of lighter valve spring retainers, which helps reduce valvetrain weight and extends the engine's ability to rev. The springs' ovate shape distributes stress evenly over the entire length of the spring coil for improved fatigue resistance.
Hot Rod Series Valve Springs
The Hot Rod Series springs are ideal for street performance engines. They're available in sets of 16 or in complete packages that include matching retainers, locks, valve stem seals, and locator cups.
RPM Series Valve Springs
These dual valve springs offer higher load ratings than triple valve springs. And because they're dual springs, the RPM Series springs are lighter and can handle very high engine rpm.
Summit Racing also carries PAC Racing valve spring retainers, locks, locators, lash caps, and shims, plus fully assembled pushrods.
SEE PAC RACING VALVE SPRINGS AT SUMMIT RACING
Summit Racing Equipment
http://www.SummitRacing.com
1-800-230-3030