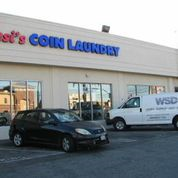 I'm very confident about the future of the coin laundry business and know our new Fluff & Fold delivery service will be great for our long-term success.
Los Angeles, CA (PRWEB) January 19, 2015
In 2012, when a tenant in a property owned by his family's Los Angeles' real estate group fell behind in rent, Tavakoli saw the laundromat as a solid business opportunity. The experienced attorney and president of MDT Properties, a real estate brokerage, management and leasing firm that services multi-family and other commercial properties, personally took over the lease and management of the coin laundry operating, renaming it Desi's Coin Laundry. Tavakoli applied his business expertise and standard of excellence to his newest venture and after careful research, he contacted WSD to ensure the finest quality design and Dexter's leading edge, finest Express laundry equipment for his customers.
Working with Dawn Clark, WSD's Coin Laundry Specialist and Southern California CLA Director, the businessman committed a significant investment to re-design and update the 3,600 square-foot facility. Dexter's high-tech, coin-op laundry equipment, among the fastest and most efficient in the industry, wash customers clothes in far less time, allowing them to get back to their busy work and family priorities. The Dexter Express line uses less gas and electricity, lowering owners' expenses. Its Express washers boast a powerful 200 g extraction force which means laundry retains less water and dries faster, which can be passed on to clients. Tavakoli's first concern was providing the best environment and experience for his customers and he personally identifies with their budget and time concerns. "After emigrating to the U.S. from Iran in 1980, my family worked minimum wage jobs. With perseverance they succeeded in business and I was able to attend UCLA and Columbia Law School. We're the American dream and I have a lot of sympathy for people who are struggling to make a living and support families," he explained.
He has followed through on his vision for the laundromat. "Marc's personal involvement in the design details and commitment to choosing the highest quality, most efficient equipment along with outstanding service is a great match for WSD," said Ms. Clark. "Desi's is a great example of our 'Clean, Bright and Safe' model."
Desi's Coin Laundry Dexter equipment includes: 14-20 lb. Express Washers, 14-30 lb. Express Washers, 8-50 lb. Express Washers, 6-60 lb. Express Washers, 4-90 lb. Express Washers, 18-30 lb. Express Stacked Dryers, and 10-50 lb. Express Stacked Dryers. The store is open 18 hours every day, is always supervised by at least one of five employees and offers fluff & fold service. The customer comforts include free WIFI and coffee, vending machines, five flat screen TVs, a computer station, massage chair, and an arcade machine.
The owner is extremely pleased with the return on his investment and confident about the future of the coin laundry business. He is especially enthusiastic about the addition of Desi's newest service, "We just launched a Fluff-and-Fold Delivery business which will contribute to our long-term success. For just $1.50/ a lb., we will professionally wash, dry and fold clients' clothes, with free pick-up and delivery within 48 hours or less. We're already seeing great response. I'd also like to start operating throughout the night, which will offer more jobs and flexibility for customers," he said. The store reaches out via social media offering rewards for Yelp reviews and views. Tavakoli is looking forward to expanding his opportunities and working with WSD on future projects.
xxx
About Desi's Coin Laundry
Since opening in July 2012, Desi's enjoys very strong customer loyalty and a growing customer base. Its self-service, coin-operated Dexter Express washers and dryers are the absolute best in the industry. They offer unbeatable prices, on-site and delivery Fluff & Fold service, and their friendly, professional staff is always available. Customers enjoy free coffee, popcorn, Wi-Fi and big-screen TVs. Desi's sells an assortment of laundry products and accessories, snacks and drinks as well as internet machines and games with a play area for children. http://www.desiscoinlaundry.com; http://www.fluffla.com
About Western State Design
With 37 years' experience as a premier, full-service distributor to the coin-op laundry industry, Western State Design has grown to become one of the largest coin laundry equipment distributors in the world. Western State Design is proud to be a Dexter Authorized Distributor, and has been recognized as the No. 1 Dexter Distributor Worldwide from 2009 to 2014. Dexter Laundry located in Fairfield, Iowa, is an employee owned leading manufacturer of commercial laundry equipment. All equipment is manufactured in Iowa. Visit WSD online at http://www.westernstatedesign.com or call toll free at 1-800-633-7153. Contact: Jeanne Feder, Western State Design, jeannef(at)eightohtwo(dot)com, 802-681-4329.