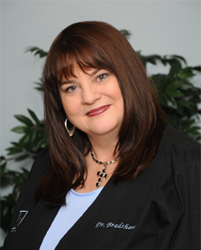 Conroe, TX (PRWEB) January 16, 2015
Patients in Conroe, TX with gum disease symptoms are now invited to receive highly effective laser gum surgery from Dr. Gayle Bradshaw's periodontal practice located in The Woodlands. The LANAP® protocol can be performed very quickly and with minimal bleeding and discomfort to the patient. Additionally, there is minimal discomfort during the recovery period, which is very brief when compared to traditional gum disease surgery options.
Gum disease is a very common ailment, especially among individuals of advanced age. Although the disease is most commonly associated with older individuals, younger individuals in Conroe, TX may also experience gum disease symptoms if they do not practice a thorough dental hygiene regimen. Laser gum surgery is a preferred treatment option for gum disease because it is quick, minimally-invasive and very effective. Traditionally, periodontal professionals were required to cut diseased gum tissue out with the use of scalpels and other specialized tools. This highly invasive method carries an increased risk of excessive bleeding, infection and other complications.
Because it can be difficult to visibly distinguish healthy tissue from inflamed tissue, there may be notable amounts of healthy gum tissue removed along with diseased tissue during traditional treatment methods. The LANAP® protocol addresses this unfortunate occurrence by carefully targeting only infected tissue and removing it without causing damage to healthy tissue in the area. This means that patients who receive the LANAP® protocol can rest assured that there will be no collateral damage to their healthy tissue during the procedure.
For some individuals, the long recovery time associated with standard gum disease surgery is an effective deterrent to treatment. Professional responsibilities and family duties are difficult to put on hold while recovering from invasive gum surgery, which is another reason why the short recovery time associated with the LANAP® protocol is so appealing. Patients can typically return to their normal daily activities within hours of their laser gum surgery procedure.
Patients with gum disease symptoms in Conroe, TX are encouraged to schedule a consultation with Dr. Bradshaw to see if the LANAP® protocol is appropriate for their needs. For patients with gum disease, laser gum surgery can be an excellent start to improving oral health for the New Year.
About The Practice
Bradshaw Periodontics is a periodontal practice offering patients personalized dental care for The Woodlands, Texas since 1998. Dr. Gayle Bradshaw graduated Magna Cum Laude in 1994 from The University of Texas Health Science Center San Antonio Dental School. Dr. Bradshaw and her family moved to Houston to complete her Master's Degree in periodontal surgery at The University of Texas Dental Branch where she completed her studies in 1998. In 2000, she earned her Board Certification from the American Board of Periodontology. Dr. Bradshaw is part of one percent of dental professionals providing the LANAP® FDA cleared laser procedure for gum disease and periodontal treatment. To learn more about Bradshaw Periodontics and their dental services visit their website at http://www.bradshawperiodontics.com and call (281) 377-8409.