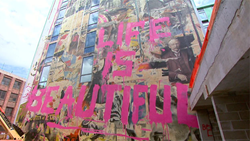 We strive with every marketing strategy to offer our clients solutions that are innovative and unique.
SECAUCUS, N.J. (PRWEB) January 19, 2015
With a client list as diverse as its talents, New World Group - a creative agency headquartered three miles outside of NYC in Secaucus, N.J., takes the reins on some of the most innovative marketing campaigns in luxury real estate.
To illustrate, established client David A. Sigman, Executive Vice President and Principal of LCOR, (a development company) turned to the innovation center for branding its newest development, 250N10's 234 luxury apartments in Williamsburg, Brooklyn. Following the NWG methodology that in order for the company to grow it must evolve with the clients to meet their needs, the firm commissioned street artist Mr. Brainwash to design a large outdoor installation for 250N10 to call its own.
"Our clients are competing in the high end luxury marketplace flush with rising developments on every corner; each providing more outstanding features and amenities than the one before. We strive with every marketing strategy to offer our clients solutions that are innovative and unique. We are always looking to create something that will get people to stop and say 'That is amazing. I want to live there'. That's our job. We extended our personal relationship with the artist to offer such a unique marketing idea: With Williamsburg being the street art capital of the world it made this an obvious choice for our firm. 250 North 10th was the perfect opportunity to showcase this infamous street-artist and bring notoriety to my client at the same time," says New World Group President, Chris Seriale.
The newly branded 250N10 luxury apartments received notable press for its bold move: The Wall Street Journal, along with other nationally recognized media outlets all took interest in the new street art facing Roebling street.
As well as partnering with some of the biggest names in the real estate industry such as Kushner Real Estate Group, Prism Properties, and Bijou Properties, NWG prides itself on implementing a carefully designed creative campaign to provide brand value and marketing qualified leads as well as representing its clients with sophisticated and thought provoking positioning and creative.
About New World Group
New World Group, based just three miles from NYC in Secaucus, N.J., is a creative agency specializing in luxury real estate, music, theatrical film releases and premiere corporate brands. Our team has conceived, developed and distributed some of the worlds most recognized promotional merchandise in the movie and music industry. The agency has created print and digital campaigns for prestigious real estate developers, luxury hotels and private aviation companies. We have collectively strategized, marketed, advertised and delivered concepts, designs and materials while maintaining an unparalleled level of quality and excellence.
For more information, please visit the website at http://www.newworldgroup.com.
(2014, Haute Living)
(2014, WSJ)
###