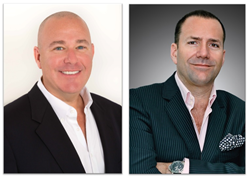 Miami, FL (PRWEB) January 20, 2015
Continental National Bank, Miami's premier community source for financial services for small businesses and entrepreneurs, announces the appointment of two new members to their elite Board of Directors: distinguished Real Estate Entrepreneur Lyle Chariff, and award-winning Advertising CEO Manuel E. Machado. Both new Board Members bring talent, energy, and expertise to the table, pledging to lend their creativity and know-how to expanding upon Continental National Bank's undeniable legacy of excellence.
Lyle Chariff is the founder of Chariff Realty Group, an entrepreneurial boutique real estate firm aimed at helping clients aggressively buy, sell and lease commercial real estate throughout the Greater Miami, Miami Beach, and South Florida area. Chariff's vast expertise is cultivated from more than 51 years as a resident of Miami, which has allowed him to consistently anticipate clients' needs while providing an unprecedented level of service.
Manuel E. Machado is Founder/Managing Partner at Commonground/MGS, an innovative marketing agency that lives at the intersection of culture, creativity, technology and content. With over 20 years in advertising, Machado's skill in the areas of global corporate and brand positioning, reputation management, marketing, and public relations has helped many brands build market dominance and consumer appeal, for which he is recognized locally and nationally.
"Both Lyle Chariff and Manuel Machado are seasoned professionals across important industries in the Miami market who will certainly add perspective to Continental National Bank's Board of Directors. We are happy to welcome them, and look forward to benefiting from their counsel," explains Jacqueline Dascal-Chariff, Chairman of Continental National Bank.
About Continental National Bank:
Continental National Bank is a full-service community bank established in 1974 in Miami as the first Cuban-American-chartered national bank in the United States, serving its customers for 40 years. With seven branches conveniently located throughout Miami-Dade County, and with more than $365 million in assets, Continental National Bank was awarded the five-star "superior" rating by BauerFinancial and also has been rated "Outstanding" in their Community Reinvestment Act evaluation by their regulatory agency. The Bank offers a full range of financial products and services for retail, business and institutional clients.
http://www.continentalbank.com