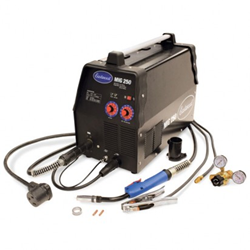 Eastwood focused on developing a machine that would deliver on performance, quality, and price
Pottstown, PA (PRWEB) January 27, 2015
The Eastwood Company, do-it-yourself innovators of automotive restoration tools, today launched an affordable, industrial quality MIG welder. The Eastwood MIG 250 Welder is designed for fabrication shops, as well as DIY fabricators. The MIG 250 operates on 120v or 240v and offers infinitely adjustable 30-250 amp welding range. Featuring inverter technology, the MIG 250 can be run off of a generator and weighs half as much as other comparable machines.
The Eastwood MIG 250 Welder is easy to set up and accepts 4" and 8" diameter wire spools of .023" to .045". With infinitely adjustable controls, it can weld 18 gauge up to 1/2" steel, and aluminum up to 1/4" thick, with the optional spool gun. It offers a 60% duty cycle at 250 amp setting.
"Since the introduction of the Eastwood Versa-Cut 60 Plasma Cutter, we have had requests for a more powerful, industrial MIG welder," said Nick Capinski, Eastwood Senior Content Manager. "Eastwood focused on developing a machine that would deliver on performance, quality, and price." The MIG 250 delivers ease of use and lower prices than comparable industrial units.
Eastwood markets unique tools and supplies for repair, restoration, and modification of cars, trucks, and motorcycles. Founded in 1978, Eastwood strives to develop new products to serve the home automotive hobbyist, as well as individuals and organizations focused on the restoration and preservation of automobiles and motorcycles. Writers are welcome to use any article in Eastwood's Free Tech Library, with attribution. For more information on Eastwood's new MIG 250 Welder or hi-res photos, email ncapinski(at)eastwood(dot)com.