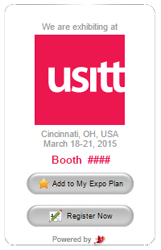 Columbia, MD (PRWEB) January 19, 2015
a2z, Inc., the Maryland-based event management software company, is pleased to announce that the United States Institute for Theatre Technology (USITT) is providing a suite of a2z-powered ChirpE solutions to attendees and exhibitors for their Annual Conference & Stage Expo – an annual event for professionals in the theater technology industry. This year, the event will take place March 18-21, 2015 in Cincinnati, OH. The ChirpE suite of solutions for the USITT Conference includes the eBooth Promotion Widget and 365 Mobile App.
The ChirpE eBooth Promotion Widget offers exhibitors of USITT 2015 an online tool for engaging clients and prospects before the Expo starts. The widget allows exhibitors to promote their eBooths on their websites so that attendees can have easy access to their company information, the event website, and even register. Exhibitors can increase their event ROI and collect valuable pre-show leads. Exhibitors can access their widget from the USITT 2015 exhibitor console.
In addition, USITT is providing the ChirpE Mobile App Solution to boost the attendee experience. The USITT 365 native mobile app offers a consolidated, convenient, on-the-go resource for USITT's networking, information, and event tools. App users will not only access year-round information about USITT but they will also access information about all the major events within the one app including the Annual Conference and Stage Expo.
Attendees can access the Conference app via the 365 app. Attendees can use the personalized planner to keep track of their onsite meetings and selected sessions. In addition, attendees can go to the Special Events section within the app to view featured conference events and use the Planner feature to add their favorite sessions and scheduled meetings to their schedule. The USITT mobile app is available for iOS and Android devices.
The 2015 Annual Conference & Stage Expo is a four-day event that will host more than 250 companies along with Special Exhibits from around the world, interactive areas where USITT members will display their work from the past year, and innovations which are sure to inspire attendees. More than 5,000 theatre industry professionals are expected to arrive in Cincinnati to engage in educational and networking opportunities.
To learn more about USITT 2015, please visit http://www.usittshow.com.
About a2z
a2z, Inc. provides powerful web-based event management tools that grow your show by increasing and accelerating booth sales, helping boost revenue, and enhancing engagement and value for everyone. a2z, Inc. powers more than 850 leading events every year. Our clients benefit from increased connectivity with their audience via an improved website for their attendees and exhibitors and both web-based and native mobile app solutions. a2z offers three platforms as one integrated solution: Expo & Conference Management, Networking & Lead Management, and ChirpE Mobile- which includes our web-based and native mobile apps for smart phone and tablet device.
About USITT
The United States Institute for Theatre Technology (USITT) is the organization which brings together all segments of design and technology for the live performing arts and entertainment community. USITT's programs, publications, and services create environment for these professionals to connect, create, share, and communicate their craft. At its largest event, the Annual Conference & Stage Expo, more than 5,000 professionals gather to enjoy more than 200 sessions and interact with more than 250 exhibitors. For the entire spectrum from architects who design the spaces and those in lighting, sound, scene, costuming, education, and engineering, who create and safely manage the productions, the Annual Conference & Stage Expo as well as regional and local events, are where the performing arts community gathers. Founded in 1960, USITT maintains National Offices in Syracuse, New York and is actively involved in publishing and promoting the industry through awards and recognition of achievement for those in all stages of their careers.