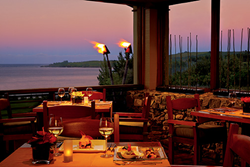 "The reopening of this signature restaurant represents a redefinition of island dining."
Kapalua, Maui, Hawaii (PRWEB) January 19, 2015
Maui's luxury destination resort, The Ritz-Carlton, Kapalua is pleased to announce the December 2, 2014 opening of The Banyan Tree restaurant. Previously the hotel's fine dining restaurant, the reimagined Banyan Tree debuts with a fresh design concept and new menu featuring farm-to-fork dining and garden-to-glass cocktails complemented by a backdrop of stunning ocean views. The Ritz-Carlton, Kapalua continues its dedication to providing authentic, local experiences with the opening of this innovative Maui dining venue, which will feature an ocean view dining area, inviting lounge with shared plates, mixologist-crafted cocktails and a seasonal menu prepared with simplicity for the perfect flavor balance.
"We are thrilled to welcome back the Banyan Tree restaurant in an entirely new way this December," says Alex Ahluwalia, General Manager of The Ritz-Carlton, Kapalua. "The reopening of this signature restaurant represents a redefinition of island dining and cocktail concepts with a continued focus on seasonal and local ingredients."
Executive Sous Chef, Kenneth Sniffen comes home to where it all began to showcase Hawaii's fresh fish, local beef, seasonal produce and garden ingredients. Chef Kenneth was born and raised on Maui and originally started his career in Kapalua with the original opening of The Banyan Tree. He has worked for The Ritz-Carlton Hotel Company for over 14 years and in his most recent position as Corporate Executive Sous Chef, he utilized his skills and talent to improve culinary operations across North America and the Caribbean. Chef Kenneth has also been part of the Ritz-Carlton team in Dallas as Fearing's restaurant Executive Sous Chef with Chef Dean Fearing.
Chef Kenneth's inspired cuisine at The Banyan Tree will offer locally-focused dishes infused with Hawaiian flavors and ingredients from nearby farms as well as the resort's onsite two-acre sustainable organic garden. Combining modern Ritz-Carlton refinement with elements that reflects the resort's Maui locale, The Banyan Tree's island-inspired design will feature an inviting lounge area, open-air, ocean view dining area with floor to ceiling windows, and custom embellishments bringing the feel of the outdoors inside.
Signature dishes include The Banyan Tree Bouillabaisse, a decadent seafood dish with scallops, prawns, onaga, tako complemented by a fresh lemongrass-Kona lobster broth. Another sure-to-be favorite includes the House Pappardelle with house-smoked bacon, garden fresh kale and macadamia nut pesto along with a crispy poached egg that come together as a playful interpretation of a pasta carbonara.
"The dishes we create at The Banyan Tee are designed to give restaurant-goers a sense of the island's most unique flavor profiles," says Chef John Zaner, Executive Chef for The Ritz-Carlton, Kapalua. "We are proud to showcase our culinary team's skill and creativity in such a special venue."
Upon first entering the restaurant, guests will be welcomed by an inviting lounge that will also serve as an interactive cocktail area. Talented liquid chefs of The Ritz-Carlton, Kapalua redefine classic cocktails with innovative mixology and local influence to complement the unique island flavors of the shared plate menu. The Banyan Tree restaurant will showcase a mixologist-crafted, seasonal cocktail menu—signature cocktails include: the "A Sage Request," the refreshing "Thymeline" with cucumber and house-made sour, and a "Hibiscus Honey" mixed with black tea and hibiscus and Kaffir lime syrup.
Future plans are being made for interactive cooking demonstrations, mixology classes and more to complement the resort's already popular Chef led, complimentary interactive tour, "Ai Pono" – Eat Well, every Monday at 10:30am. The tour begins at The Banyan Tree and continues down to Jean-Michel Cousteau's Ambassadors of the Environment center. A resort Chef guides guests through the herb garden describing in detail the different herb varieties and offering interactive cooking tips and lessons. The tour culminates with the 'fruits of the culinary team's labors:' a delicious raw food smoothie made entirely from ingredients cultivated from the garden.
For the latest information about The Banyan Tree or to make reservations, please visit http://www.ritzcarlton.com/kapalua.
For more information about or reservations at The Ritz-Carlton, Kapalua, please call (800) 262-8440, the hotel directly at (808) 669-6200, or visit The Ritz-Carlton Web site at http://www.ritzcarlton.com.
###
About The Ritz-Carlton, Kapalua
The AAA Five-Diamond Ritz-Carlton, Kapalua showcases a stunning, destination resort offering 463 guestrooms, including 107 residential suites, boasting warm-hued wood floors, rich travertine bathrooms, flat-screen LCD televisions and Hawaiian-inspired artwork. The Ritz-Carlton Spa®, Kapalua beckons with treatment rooms framed by private garden showers, volcanic stone grottos, steam, sauna and whirlpool therapies, outdoor couple's hale (cabanas) and a fitness center and movement studio with spectacular ocean views. Jean-Michel Cousteau's Ambassadors of the Environment program offers all interest levels an array of outdoor activities from land to sea, led by trained naturalists. The breathtaking island resort also features six dining experiences, enhanced indoor/outdoor meeting space, an inviting children's pool and luxury cabanas. The Ritz-Carlton, Kapalua is nestled on 54 acres and enveloped by the 22,000 acre Kapalua Resort, renowned for two championship golf courses, award-winning restaurants and the site of an historic pineapple plantation.
About The Ritz-Carlton Hotel Company
The Ritz-Carlton Hotel Company, L.L.C. of Chevy Chase, Md., currently operates 87 hotels in the Americas, Europe, Asia, the Middle East, Africa, and the Caribbean. More than 30 hotel and residential projects are under development around the globe. The Ritz-Carlton is the only service company to have twice earned the prestigious Malcolm Baldrige National Quality Award which recognizes outstanding customer service. For more information, or reservations, contact a travel professional, call toll free in the U.S. 1-800-241-3333, or visit the company website at http://www.ritzcarlton.com. The Ritz-Carlton Hotel Company, L.L.C. is a wholly owned subsidiary of Marriott International, Inc. (NYSE: MAR)