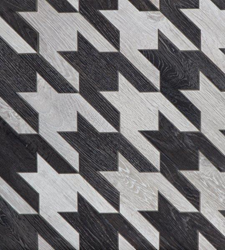 LOS ANGELES (PRWEB) January 19, 2015
Walker Zanger, the world's most comprehensive stone and tile company, has announced that it will be showcasing its latest products at the Kitchen & Bath Industry Show (KBIS), part of the world's largest gathering in residential design and construction with over 120,000 industry professionals anticipated to attend.
"We look forward to returning to KBIS," notes Walker Zanger Vice President of Design and Marketing Jared Becker. "With the economy strengthening and the building market improving, it's the perfect time for Walker Zanger to return. This show is an ideal setting for us to re-connect with leading designers and architects.
At KBIS, Walker Zanger will engage with the media, bloggers and the kitchen and bath industry at large. Its booth has been updated for the occasion, featuring its latest collections in a sophisticated art gallery setting.
Among the latest Walker Zanger designs to debut at KBIS are:

Duquesa: This line of hand-painted ceramic tiles draws its inspiration from styles that span the ages and the globe, ranging from Egyptian inlays to Chinese screens, all re-imagined through a modern lens that brings counterpoint and context to diverse applications.
Sterling Row: This is Walker Zanger's genteel nod to tailored masculine style and Art Deco elegance, realized in a black-tie palette of wood-finish ceramic tile and smooth polished marble. Mosaic patterns such as Wingtip, Oxford and Tuxedo evoke the style of iconic figures of the era such as Cary Grant.
The Robert A.M. Stern Collection by Walker Zanger: This new line of ceramic tiles bears the style of legendary postmodernist architect Robert A.M. Stern and the world-renowned firm which bears his name. It's the fruition of an exclusive partnership between the firm and Walker Zanger, realized in everything from delicate fish-scale shingle designs to soaring floor-to-ceiling pilasters.
KBIS runs January 20-22 in Las Vegas; Walker Zanger will be showcasing its products at Booth #S7023.
ABOUT WALKER ZANGER:
For more than 60 years, Walker Zanger, the world's most comprehensive stone and tile company, combines traditional tile-making techniques with a modern sophistication that transcends any singular design style. A leading choice for design professionals and consumers, Walker Zanger natural stone and tile products can be found in luxury homes, trendy boutiques, lavish spas and resorts, famed museums and fine restaurants around the globe.
Walker Zanger is available through 14 beautiful showrooms and more than 200 authorized dealers nationwide. To learn more about Walker Zanger and its line of products visit http://www.walkerzanger.com.