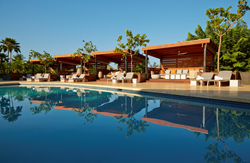 "Hotel Wailea was conceived as the ultra-private Hawaii couple's escape centered on gracious service and exceptional culinary experiences," said owner Jonathan McManus.
WAILEA, MAUI (PRWEB) January 20, 2015
Hotel Wailea, a former private members club previously unknown to leisure travelers, joins an exclusive association of the world's finest hotels and gourmet restaurants that have set the standard for excellence in hospitality, becoming the first Relais & Châteaux property in Hawaii. On the heels of a $15 million redesign, Hotel Wailea is poised to welcome a new generation of discerning travelers who seek the romance and tranquility of ultra-private suites coupled with gracious service, a serene sense of place and a world of authentic island experiences.
The epitome of a romantic sanctuary, Hotel Wailea is perched 300 feet above sea level with dramatic ocean views. Set across 15 lush acres, the resort offers 72 intimate one-bedroom suites, designed by Honolulu's Marion Philpotts-Miller, that bring together indigenous island character with the feel of an ocean view pied-à-terre. Residential-style cabanas and an orchard-to-glass apothecary bar are among highlights of the newly finished pool area, aptly name The Cabanas, where raw-food-chef-turned-mixologist Kerry Mekeel crafts custom cocktails with handpicked island fruit, fresh-pressed juices, organic hydrosols and tropical infusions.
"Hotel Wailea was conceived as the ultra-private Hawaii couple's escape centered on gracious service and exceptional culinary experiences," said owner Jonathan McManus. "It's an honor for Hotel Wailea to be admitted into the Relais & Châteaux family, and we welcome the opportunity for our guests to experience firsthand the essence of a Maui-based Relais & Châteaux property."
Hotel Wailea is raising the bar on the farm-to-fork movement on Maui by artfully bringing the island's full bounty to life through cuisine. Capische?, Hotel Wailea's fine dining restaurant blends Southern Mediterranean flavors, artisanal Hawaiian products and Maui-grown ingredients, including those sourced from the hotel's on-property farming operation, Wailea Organics. Executive Chef Brian Etheredge and Chef de Cuisine Chris Kulis, both graduates of the Culinary Institute of America, share a passion and understanding for creative techniques and superb quality in the culinary arts, a philosophy that is infused throughout Hotel Wailea's entire culinary program.
Island pursuits are enhanced by Hotel Wailea's skilled and passionate staff, who are true arbiters of their craft. Guests can escape on a private safari to Maui's hidden beaches or take on the famed North Shore during kiteboarding lessons led by the hotel's expert kite-boarder and General Manager, Markus Schale.
To further create experiences that go beyond guests' expectations, Hotel Wailea is beginning its next phase of upgrades, which includes an ocean view treehouse where guests can experience private spa treatments within the mango tree canopies. Projected for completion in spring 2015 is a new spa concepted by renowned luxury spa developer Tracy Lee offering a menu of signature treatments and soothing massages. For reservations or more information please call (866) 970-4167 or visit http://www.hotelwailea.com.
###
ABOUT HOTEL WAILEA
Perched above the coveted destination of Wailea on the island of Maui sits the 72-room Hotel Wailea, an exclusive, private enclave boasting breathtaking ocean views set upon 15 acres of Zen-inspired grounds with tropical gardens, cascading waterfalls and winding pathways. The independently owned and operated, all-suite hotel finished a $15 million renovation in December 2014. Hotel Wailea introduces a new style of relaxed island luxury with exquisitely redesigned rooms, each with living room and private lanais, along with a new resort pool and guest programming that celebrates the spirit of Maui. Capische?, the hotel's award-winning restaurant with dramatic ocean views offers guests Mediterranean-inspired cuisine carefully handcrafted from Maui-grown ingredients, including from the hotel's own organic garden.
ABOUT RELAIS & CHÂTEAUX
Relais & Châteaux is an exclusive collection of more than 530 of the finest charming hotels and gourmet restaurants managed by a family of independent owners, innkeepers and chefs that has set the standard for excellence in hospitality since 1954. Together they open up new horizons for upscale hospitality by focusing on distinctive and personal experiences through which our guests are invited to experience the fine 'Art of Living' on all five continents. From the vineyards in Napa Valley to the beaches on the Indian Ocean, from the olive trees in Provence to the lodges in South Africa and traditional Japanese hot spring Ryokan, Relais & Châteaux offers all the stops on the finest route for discovering each region, culture and country. Enchantment with the world and appreciating the beauty of our planet with a fresh view is the vision of Relais & Châteaux. Through each individual property, Relais & Châteaux wishes to convey a message of preservation of nature and biodiversity, World Heritage of cuisine and customs and to share the beauty and unique offerings of the local terroirs with the greater world. For more information, visit http://www.relaischateaux.com
Media Contacts:
Murphy O'Brien Public Relations
Laura Millett | Tiffany Higgins
310-453-2539
lmillett(at)murphyobrien(dot)com
thiggins(at)murphyobrien(dot)com