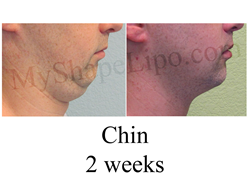 "I'm now a radio host with a face that's not just for radio".
Las Vegas, NV (PRWEB) January 16, 2015 (PRWEB) January 18, 2015
MyShape Lipo of Las Vegas was the facility of choice for Puentes, the Spanish radio host for ESPN Deportes. He has recently undergone liposuction of the chin. The procedure went smoothly, and there were visible results immediately following his procedure.
"It's unbelievable that in less than 45 minutes, what has haunted me for years is now just a figment of my imagination. I feel Incredible! I think the increased confidence I am experiencing will transcend to my radio audience and make them more apt to listen to my station. I never thought chin liposuction could do so much for my confidence!" Says Alvaro.
Trevor Schmidt PA-C, the liposuction specialist at MyShape Lipo says these types of results are fairly common. "Increase in self esteem is prevalent when we address a problem that has caused insecurity issues for years, "says Schmidt. "Absolutely, I think a radio personality who is more confident with themselves will speak more confidently which could attract a larger audience."
Alvaro has been a radio host for ESPN Deportes since 2008. "A lot of time is spent seated while recording, so weight loss has been a complicated task". Says Puentes. "Although it has only been a short time since my procedure the results have been life changing. I'm now a radio host with a face that's not just for radio".
Like every surgical procedure, liposuction carries potential side effects. But most of these are minimal, including temporary bruising, swelling, and soreness. The vast majority of patients heal rapidly, going back to work within a few days and returning to most normal activities within a week.
Double chins are extremely common and those that are affected by this condition, usually lack confidence and avoid photos as well as public appearances. Liposuction of the chin is an out patient procedure that can permanently remove this issue within an hour.
About MyShape Lipo
MyShape Lipo is a specialty liposuction clinic located in Las Vegas. Trevor Schmidt PA-C, the liposuction specialist has the experience of over 15,000 liposuction procedures. Patients fly in from around the world for their affordable prices, world class customer service and extensive experience in liposuction. For a complimentary consultation via phone or in person, call today, 702-818-5476 or visit them online at http://www.MyShapeLipo.com