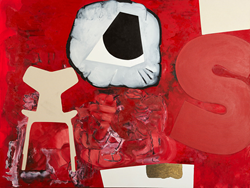 Santa Fe, NM (PRWEB) January 18, 2015
David Richard Gallery will present a new series of abstract paintings by Stephen Davis in his first solo exhibition with the gallery. "Domestic Interiors" will be presented January 17 through February 21, 2015 with an opening reception with the artist on Friday, January 30 from 5:00 - 7:00 PM. There will be a gallery talk with Stephen Davis, moderated by Kathryn M. Davis of "ArtBeat", on Saturday, February 7 from 2:00 - 3:00 PM. The gallery is located at 544 South Guadalupe Street, Santa Fe, New Mexico 87501, phone 505-983-9555 in the Santa Fe Railyard Arts District.
The newest paintings by Stephen Davis are a combination of figurative elements, negative spaces and gestural abstractions. Most notably, nearly all of them contain negative-space images of chairs, along with block letters, and in the most recent paintings, a motif that is evocative of an eye. The combinations of images and other painting events are akin to furniture and architectural elements as experienced by an active viewer in an interior space. To the artist, the paintings are how humans experience the world around them, both physically and metaphorically, interacting perceptibly and emotionally in the room of the painting. We explore a space by walking around it and paying attention. The paintings are active and reciprocal to the spaces in which they reside. Our interpretation of the visual events in the paintings by Davis is experiential, taking place over time.
Davis paints in 2 different studios, one in Pecos, Texas and the other in Northern New Mexico. Both have large open vistas: Pecos more open with scrub brush and mesquite, while New Mexico has larger masses such as mountains framing the landscape. These painting environments inspire the scale and spatial relationships between the objects and negative spaces in his paintings. The paintings created in Texas are larger with more negative space, requiring more visual distance to view and time to process and interpret. The mix of scale, bold colors and shapes create powerful abstractions in this work. However, engaging with these paintings is key to really experiencing them.
Stephen Davis is from Fort Worth, Texas and received his MFA from Claremont Graduate School in 1971. He taught on the west coast at San Francisco Art Institute, University of Santa Clara and UC Santa Barbara before moving to the east coast and teaching at Hunter College, New York. He has had numerous solo exhibitions in San Francisco, New York, Washington, D.C., Andover and Pittsburgh as well as Banff and Montreal, Canada, among other cities. His artwork has been included in two Whitney Biennials in 1973 and 1977 and many group exhibitions across the US. Davis has received three grants from the National Endowment for the Arts, two from the Gottlieb Foundation as well as grants from the Pollock-Krasner Foundation, Joan Mitchell Foundation and Sugarman Foundation. His artwork is included in the collections of the San Francisco Museum of Art; Oakland Museum, CA; University Art Museum, UC Berkeley, CA; Addison Gallery of American Art, Andover, MA; Museum of Contemporary Art, Los Angeles; and El Paso Museum of Art, TX; among other museums and numerous private collections.
David Richard Gallery, a contemporary art gallery in Santa Fe, specializes in post-war abstract art including Abstract Expressionism, Color Field, geometric and hard-edge painting, Op Art, Pop Art, Minimalism, Feminism and Conceptualism in a variety of media. Featuring both historic and contemporary artwork, the gallery represents many established artists who were part of important art historical movements and tendencies that occurred during the 1950s through the 1980s on both the east and west coasts. The gallery also represents artist estates, emerging artists and offers secondary market works.