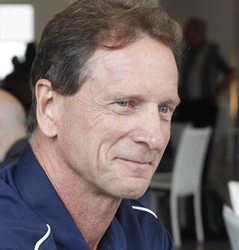 Up until now, these systems have been very expensive and complex. The MySwing system looks to solve both of these issues and brings biomechanics to the instructor in a simple and affordable way. I am excited about its future possibilities
Orlando, Florida (PRWEB) January 19, 2015
MySwing® Professional the only wireless, full-body, motion capture driven tool for golf professionals that can be used both indoors and outdoors will partner with sports biomechanics innovator, Phil Cheetham, at their exhibition booth during the upcoming PGA Merchandise Show taking place January 21-23 at the Orange County Convention Center in Orlando.
Known as "The 3D Guy" for his expertise in 3D motion analysis and sports biomechanics, Cheetham has been a leader in the niche field for nearly 30 years, particularly in the realm of golf where he has developed motion analysis systems designed to measure golf swing motion. He is currently the Senior Sport Technologist and Biomechanist for the US Olympic Committee and is Director of the Biomechanics Advisory Board for TPI.
An Olympian who competed for Australia in the 1976 Montreal Olympic Games in gymnastics, Cheetham has gone on to become one of the foremost authorities in sports science and technology, biomechanics and the principles of the kinematic sequence. He has worked with countless golf professionals and amateurs alike, guiding them on their journey to a better swing.
Collaborating with the MySwing team during the 2015 PGA Merchandise Show Conference, Cheetham will be working with technology he is familiar with, as the MySwing platform offers golfers the advantage of allowing them to capture and record their full-body movements to have them later analyzed in a 3D format.
"I developed one of the first sport motion analysis systems in the early 1980's and have always specialized in full body motion capture for biomechanical analysis," says Cheetham. "Up until now, these systems have been very expensive and complex. The MySwing system looks to solve both of these issues and brings biomechanics to the instructor in a simple and affordable way. I am excited about its future possibilities."
Cheetham will be uniting with MySwing during the show where he'll be performing live demos and answering questions about the golf instruction technology.
Though there are other golf teaching tools and systems on the market, MySwing Professional is the only one that is completely wireless, portable and lightweight so it does not interfere with the natural movement of the body. It comes complete with 17 small sensors that attach to various points on the user's body. The sensors capture the motion data which is transmitted wirelessly to a tablet where it is stored to be later analyzed. Golf instructors and students can review the captured data, which is displayed in a 3D format.
MySwing Professional package comes with 17 lightweight sensors including one for the club, a set of straps, a tablet PC with pre-installed software, and a carrying case that also works as a charger for the sensors. The sensors can work continuously for up to four hours between charges.
While other full-body, motion-capture systems can cost $40,000 or more, but MySwing Professional is wireless, portable and affordable. The package will be available to instructors on a rental plan for $199 per month for 24-month rental periods.
MySwing will be at Booth #383 during the PGA Merchandise Show from January 21-23 at the Orange County Convention Center in Orlando. Demo Day will be Tuesday, January 20 from 9 am to 5 pm at the Orange County National Golf Center in Winter Garden followed by Open Forum—a gathering of researchers and instructors involved in biomechanics and golf swing science—at the Rosen Plaza located directly across from the convention center, from 6 pm to 10:30 pm.
For more information about MySwing's attendance, please visit http://pgashow.com/Home/.
To learn more about MySwing, please visit http://www.myswing.com or call 1-888-Swing-29
About MySwing Professional
MySwing Professional puts the power of biomechanics in the hands of every golf pro. It is the only wireless, full-body motion capture golf instruction tool that is portable, affordable and can be set up indoors or outdoors in minutes. MySwing Professional is used by independant golf instructors, university golf coaches and researchers, country clubs and golf courses. For further information, please visit http://www.myswinggolf.com or call 1-888-SWING-29. For general inquiries, please email, contact(at)myswinggolf(dot)com