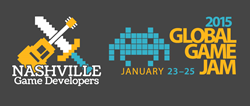 Game Jams are a great way to bring the local game development community together, and to see what kind of talent is in a particular city.
(PRWEB) January 18, 2015
Nashville, TN: Avatar Software, and its new spinoff company Black Gate Games are proud sponsors of the Nashville's Global Game Jam (GGJ). GGJ is a yearly worldwide event where each site is challenged to make games related to the same theme in a 48-hour period. Last year's event brought in over 4000 games from 488 locations in 72 countries.
Elonka Dunin, the newest member of the Black Gate Games family and former board member of the Global Game Jam, is particularly excited about this year's event. "I'm tremendously excited to be a part of the Nashville team this year. Game Jams are a great way to bring the local game development community together, and to see what kind of talent is in a particular city. In 2014, it looks like the Nashville team was able to create five games in 48 hours, and that record is going to be blown away in 2015. Judging by signups so far, this is going to be the biggest Game Jam that Nashville has ever had, and I'm really looking forward to meeting everyone. We're going to have a lot of fun, make valuable contacts, and I can't wait to see the games that we come up with!" Dunin says.
Starting on Friday, gamers, developers, programmers, designers and others will gather at the E-Spaces site in Franklin to collaborate on game prototypes that must be completed by Sunday afternoon. This intense game creation process is open to the public. Professionals, amateurs, students, and interested hobbyists are all welcome to the free event. For more information about the Global Gam Jam visit http://globalgamejam.org, and to participate in the Nashville effort, sign up at http://globalgamejam.org/2015/jam-sites/nashville-game-developers.
Avatar Software, LLC was founded by CEO John Gould in Nashville, Tennessee in 2003 and has proudly served the IT and business community ever since. Avatar has a proven track record assisting clients to achieve their business initiatives by defining, developing, and implementing custom software solutions. Avatar's business professionals and developers offer experience in Software Development, Software Development Lifecycle, Microsoft SharePoint Development and Consulting, Web-Based Applications, and Mobile Device Development. Gould, who is an avid gamer and has built mobile game demos for talks in Baltimore, New York, and Atlanta, decided to create Black Gate Games in October 2014 to bring game development to the forefront of Nashville's already strong entertainment industry. For more information about Black Gate Games, or working with or for Avatar, please email info(at)avatar-soft.com.