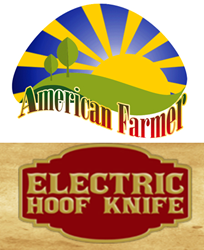 Tallahassee, FL (PRWEB) January 17, 2015
DeWolf & Associates, LLC announced today that they will be featured in an upcoming episode of American Farmer, airing 2nd QTR 2015 on RFD-TV.
This episode of American Farmer will feature DeWolf & Associates' Electric Hoof Knife, which has been specifically designed for the hoof trimming industry. Viewers will take a behind the scenes look at how the tool is assembled in Tallahassee, and will review the high-rated components used for creation of the tool.
Audiences will be amazed by the Electric Hoof Knife's features, which provide customers with a superior trimming experience every time. The Electric Hoof Knife is powerful, durable and highly efficient, and utilizes spiral gears, which work harder, operate more quietly, and produce less vibration than any other type of gearing system, making trimming smoother, easier, and faster.
One of the most demanding tasks a Farmer with livestock faces is that of hoof trimming. Not much has changed in the way of tools in the past 200 years. Hand tools were the Farmers only choice until now. The Electric Hoof Knife is used by farmers with livestock, Farriers, hoof trimmers, horse owners, goat and sheep ranchers, dairymen, zoos, animal preserves and veterinarians in the United States and around the world.
"The Electric Hoof Knife is the first and only tool of its kind in the hoof trimming industry," commented Allen DeWolf, CEO, DeWolf & Associates. "We are excited to be featured on American Farmer. It enables us to share the Hoof Knife's amazing features with the Ag community."
"With complete control over the quality of the Electric Hoof Knife from start to finish, DeWolf & Associates works hard to offer customers the best and most effective trimming power tool on the market," said Kelly Fussell, Producer for the American Farmer series. "We look forward to educating our viewers on this amazing product."
About DeWolf & Associates:
DeWolf & Associates, LLC is a small family owned and operated business established in 2012 in Tallahassee, Fl. The company specializes in the research, development and manufacturing of new and unique tools for the hoof trimming, taxidermy and woodcarving industries.
For more information, visit: http://www.electrichoofknife.com.
About American Farmer:
American Farmer is a breakthrough program on a mission to showcase the latest advancements in agriculture and farming. From seed to harvest, livestock and more, our producers have traveled the country covering the people, places and issues impacting all areas of farm country.
American Farmer airs Tuesdays at 8:30am ET on RFD-TV. Check your local listing for show times.
For more information, visit: http://www.AmericanFarmerTV.com. You can also contact Kelly Fussell at (866) 496-4065 x 850 or via email at: Kelly(at)AmericanFarmerTV(dot)com.