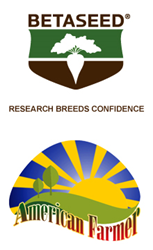 Shakopee, MN (PRWEB) January 19, 2015
Betaseed, Inc. announced today that they will be featured in an upcoming episode of American Farmer, airing 2nd Quarter on RFD-TV.
Over the last few years, Betaseed has conducted research and introduced beets to dairy producers in select markets across the US. Betaseed's comprehensive breeding program has successfully developed and introduced hybrids for dairy cattle known as Feed Beets™.
American Farmer will focus on Feed Beets™, a product by Betaseed that when included in the ration, can increase the nutritional value of other forages, such as silage, dry hay, almond hulls, grass hay and others when used as a supplement.
"This is an exciting opportunity to be able to provide information to producers about adding Feed Beets into the ration," said Duane Bernhardson, Business Development Manager for Betaseed. "We hope to help people understand the value of how Feed Beets fit into rations, the value beets can bring into an operation as a crop rotation alternative, and by offering a feed cost savings. Combine this with a feed source that is locally produced and dairy professionals quickly realize the significant contribution beets make to their operations."
"Betaseed is the sugarbeet seed industry's leading research and breeding organization devoted entirely to developing high performing, multiple disease tolerant sugarbeet seed varieties," said Kelly Fussell, producer for American Farmer. "We look forward to educating the Ag industry on the amazing services they provide."
About Betaseed Inc:
Betaseed, Inc., headquartered in Shakopee, Minnesota, is North America's premier sugarbeet seed company. From the start in 1970, Betaseed has maintained a longstanding commitment to the beet sugar industry, with research and seed production operations in several states and marketing seed to all sugarbeet markets. Their mission is to develop the best performing seed products and services through innovative people, plant breeding, and seed technology. For more information, visit: http://www.betaseed.com.
About American Farmer:
American Farmer is a breakthrough program on a mission to showcase the latest advancements in agriculture and farming. From seed to harvest, livestock and more, our producers have traveled the country covering the people, places and issues impacting all areas of farm country.
American Farmer airs Tuesdays at 8:30am ET on RFD-TV. Check your local listing for show times.
For more information, visit: http://www.AmericanFarmerTV.com. You can also contact Kelly Fussell at (866) 496-4065 x 850 or via email at: Kelly(at)AmericanFarmerTV(dot)com.