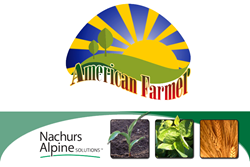 Marion, OH (PRWEB) January 20, 2015
Nachurs Alpine Solutions® announced today that they will be featured in an upcoming episode of American Farmer, airing 3rd QTR 2015 on RFD-TV.
In this segment, American Farmer will feature Nachurs Alpine Solutions; a specialty chemical company that formulates, markets and distributes NACHURS® and ALPINE® brand liquid fertilizers throughout North America. Viewers will learn about new technologies being developed and incorporated into the liquid fertilizers sold by NACHURS® and ALPINE®.
"We at Nachurs Alpine Solutions are extremely proud to help North American farmers achieve their production goals with our high quality liquid fertilizers, professional sales, and agronomic support. We are excited and privileged to showcase our products and people on RFD-TV's American Farmer Series", said Jim Krebsbach, Vice President Agriculture Division.
NACHURS® and ALPINE® brand liquid fertilizers are sold through over 500 authorized retailers/distributors located throughout North America. Product depots are also strategically located throughout North America for customer convenience.
"Nachurs Alpine Solutions is a market leader in the manufacture and distribution of high quality liquid starter fertilizers, other fertility amendments, and a variety of industrial products," said Charlie Cowan, Producer for the American Farmer series. "We look forward to educating our viewers on these amazing products."
About Na-Churs Alpine Solutions:
The Na-Churs Plant Food Company was founded in 1946 in Marion, Ohio. The Company formulated the first liquid fertilizer products that were available to greenhouses, nurseries, and to farmers. The "new liquid" concept of placing starter fertilizer with the seed caught on amongst the American farmers.
In 1998, Na-Churs Plant Food Company acquired Alpine Plant Foods Corporations, to form Nachurs Alpine Solutions. Today, Nachurs Alpine Solutions is the leading manufacturer of high quality liquid fertilizers in North America. Through our Product Development Team, Nachurs Alpine Solutions leads the cutting-edge of developing new technologies available to farmers today. Products are sold under the brand name of NACHURS® in the United States and ALPINE® in Canada. Nachurs Alpine Solutions has six manufacturing facilities: Belle Plain, Saskatchewan; Corydon, Indiana; Marion, Ohio; New Hamburg, Ontario; Red Oak, Iowa; and St. Gabriel, Louisiana.
For more information, visit: http://www.nachurs.com
About American Farmer:
American Farmer is a breakthrough program on a mission to showcase the latest advancements in agriculture and farming. From seed to harvest, livestock and more, our producers have traveled the country covering the people, places and issues impacting all areas of farm country.
American Farmer airs Tuesdays at 8:30am ET on RFD-TV. Check your local listing for show times.
For more information visit: http://www.AmericanFarmerTV.com or call Charlie Cowan at: (866) 496-4065 x 875 or via email at: Charlie(at)AmericanFarmerTV(dot)com.