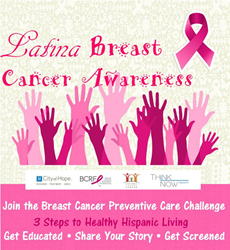 We are working very hard to make preventive care easier and more accessible
(PRWEB) January 20, 2015
Healthy Hispanic Living, the first preventive care online educational platform for U.S. Hispanics, is set to launch a targeted Latina Breast Cancer Awareness Campaign on February 1, 2015, that will run through the end of April. This will be the first in a series of 90-day campaigns featuring a specific chronic disease, such as cancer, diabetes, and obesity, that research shows is becoming a growing problem within the Hispanic community.
Healthy Hispanic Living is designed to inspire Hispanics and their families to lead healthier lifestyles by providing practical solutions and tips that can be realistically incorporated into people's everyday lives. It was launched in collaboration with City of Hope, a leading research and treatment center for cancer, diabetes and other life-threatening diseases, to improve the lives of the growing numbers of Hispanics not only in their catchment area, but throughout the country, where Hispanics represent 17% of the U.S. population (55 million people). Contributors to Healthy Hispanic Living include physicians, researchers, nutritionists, and other healthcare professionals and thought leaders who promote and encourage preventive care by delivering the in-culture educational content, tools and resources that Hispanics need most to take action on behalf of their overall health and well-being.
The Latina Breast Cancer Awareness campaign, called "A Passionate Pursuit for Prevention," will be a joint educational outreach and preventive care effort between City of Hope and other Healthy Hispanic Living content partners – including the Breast Cancer Research Foundation, Latinas Contra Cancer and ThinkNow Research – to help meet the health and wellness needs of the Hispanic community, now largely underserved by the health industry. Those needs include genetic screening, culturally-sensitive prevention and risk counseling, and Hispanic-specific research and treatment. The campaign will promote a three-pronged call to action, the first of which is "Get Educated ."
"Latinas are not alone," says Dr. Jeffrey Weitzel, Professor and Chief, Division of Clinical Cancer Genetics at City of Hope. "By becoming better educated about the breakthrough research that is occurring at places like City of Hope, they will see that we are working very hard to make preventive care easier and more accessible to them. For example, we decreased no-shows to first appointments for genetic screenings by a full 30% by providing culturally-competent intervention and education prior to the visit."
The second call to action is "Share Your Story." The Healthy Hispanic Living platform provides a safe environment where Latinas from all over the world can come together to share their personal journeys, lead by example, and encourage others to take preventive action themselves.
"Together as a community, by sharing our personal stories," says Ysabel Duron, CEO/Founder of Latinas Contra Cancer, "we can begin to collectively empower ourselves by becoming more knowledgeable about prevention methods, treatment options, and how to navigate those all-important conversations with our doctors. The experiences of others can be invaluable guides on our journey to self-advocacy for ourselves and our families."
"Get Screened" is the third call to action. According to studies by the Centers for Disease Control and Prevention (CDC), community-based intervention is necessary to increase the low-level of knowledge about breast cancer screening among certain cultural groups, particularly Latinas.
"Breast cancer is the most commonly diagnosed cancer among Hispanic women and it is the leading cause of cancer death among Hispanic women," stated Myra Biblowit, President of the Breast Cancer Research Foundation. "This partnership is critical to our efforts with the Hispanic community on the importance of education, prevention and supporting research to improve outcomes and save lives."
According to City of Hope, the ultimate goal of the campaign is to forge a movement that breaks down barriers to healthcare access, propels action to prevention and treatment, and fuels more research, awareness and outreach efforts for the Hispanic community at large. By banding together through this campaign, coming together as one, and awakening their leadership potential, Latinas can multiply their influence and the opportunities to advance the fight against breast cancer.
For more information or to participate in the campaign, please contact Annette Prieto at annette(at)healthyhispanicliving.com or 949-387-2609.
About Healthy Hispanic Living
As the first preventive care online educational platform targeted to U.S. Hispanics, HHL aims to guide Hispanics to live healthier lives and to ensure preventive care engagement, accountability and self-advocacy by providing solutions and changing the conversation about health from illness to wellness. For more information, visit http://www.healthyhispanicliving.com
About City of Hope
City of Hope is a leading research and treatment center for cancer, diabetes and other life-threatening diseases. Designated as a comprehensive cancer center, the highest recognition bestowed by the National Cancer Institute, City of Hope is also a founding member of the National Comprehensive Cancer Network, with research and treatment protocols that advance care throughout the nation. For more information, visit http://www.cityofhope.org
About Breast Cancer Research Foundation
Breast Cancer Research Foundation is a nonprofit organization committed to achieving prevention and a cure for breast cancer. BCRF provides critical funding for cancer research worldwide to fuel advances in tumor biology, genetics, prevention, treatment, metastasis and survivorship. For more information, visit http://www.bcrfcure.org/
About Latinas Contra Cancer
Founded to address the void in culturally and linguistically sensitive programs that meet the health care needs of Latinos around issues of cancer, LCC works to link services nationwide and provides cancer health education, patient navigation and psychosocial family support group services targeting the underserved and low income, Spanish-speaking. For more information, visit http://www.latinascontracancer.org
About ThinkNow Research
ThinkNow Research is a full-service market research firm that focuses on U.S. Hispanic, Latin American and Multicultural research. The company has one of the largest online research panels available in the industry, conducts a monthly Hispanic Omnibus survey and works with their clients to create customized online Hispanic communities. For more information, visit http://www.thinknowresearch.com/