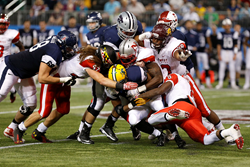 St. Petersburg, Fla. (PRWEB) January 20, 2015
The 90th East-West Shrine Game was a defensive battle showcasing the "visiting" kicker from just across Tampa Bay. The East team prevailed 19-3 in front of 22,296 at Tropicana Field.
Kicker Marvin Kloss, from the University of South Florida, hit four field goals from 19, 30, 39 and 47 yards to lead Mike Singletary's East all-stars. Kloss added an extra point after Louisville RB Dominique Brown scored the game's only touchdown with 27 seconds left in the game. Kloss's performance earned The William H Coffman Award for Most Outstanding Offensive Player.
Damian Parms (S, Florida Atlantic) had a pair of interceptions, including one with 4:27 left in the fourth quarter. He returned that interception 23 yards to the West's 28 setting up the late touchdown drive.
Za'Darius Smith (DL, Kentucky) was named The E. Jack Spaulding Award for Most Outstanding Defensive Player with a sack of Arizona State QB Taylor Kelly, a hurry and an afternoon of disrupting the West's offense.
Brown led all rushers with 70 yards on 19 attempts, with teammate Terrence Magee of Louisiana State the game's second leading rusher with 27 yards on 11 attempts.
The game's leading receiver was Arizona's Austin Hill with 41 yards on 4 receptions, followed by the East Andre Davis (USF) with 36 yards on three receptions. Davis elicited the most excitement from the "home" crowd on a 14-yard slant delivered by Georgia QB Hutson Mason.
About the East-West Shrine Game: Originating in 1925, the East-West Shrine Game is the longest-running college all-star football game in the country and features some of the highest-rated players in the projected NFL draft ranking. While the teams are divided by East and West, the players come together for the beneficiary of the event, Shriners Hospitals for Children. Learn more at http://www.shrinegame.com.
About Shriners Hospitals for Children: Shriners Hospitals for Children is changing lives every day through innovative pediatric specialty care, world-class research and outstanding medical education. The 22 hospitals in the United States, Canada and Mexico provide advanced care for children with orthopedic conditions, burns, spinal cord injuries, and cleft lip and palate.
Shriners Hospitals for Children is a 501(c)(3) nonprofit organization and relies on the generosity of donors. All donations are tax deductible to the fullest extent permitted by law. To learn more about Shriners Hospitals for Children, please visit http://www.shrinershospitalsforchildren.org.