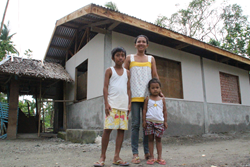 The visit of Pope Francis to the Philippines is another blessing for the families, as they feel as one with the people of Tacloban.
Kansas City, KS (PRWEB) January 18, 2015
As Pope Francis withstood wind and rain to say Mass while a typhoon approached in Tacloban Jan. 17, his presence was felt by people across the Philippines who are recovering from severe storms.
Tristan John Cabrera has interviewed families whose homes were damaged or destroyed in typhoons. He works as communications liaison for Unbound in the Philippines.
"It's very touching when the Pope came down from the airplane and the people are there in their raincoats," Cabrera said of Francis' arrival in Tacloban in the Eastern Visayas region. "It will give a really big inspiration not only for the people of Tacloban but for all of us."
A primary reason for Pope Francis' visit to the Philippines was to show his support for the people of Tacloban as they recover from the devastating blow of Super Typhoon Haiyan (local name Yolanda) in November 2013.
Families served by Unbound in the Western Visayas and Bicol regions were among those who lost homes and livelihoods when Haiyan hit. The families are recovering with help from Unbound.
In the Aklan province, for example, 411 families served by Unbound saw their homes partially damaged and 147 families' homes were destroyed. All but 47 homes have been repaired or rebuilt with Unbound's help. Construction of those homes should be complete by March, said Risa Verena, coordinator of Unbound's Manila program.
Unbound provided materials such as cement, steel bars, galvanized iron for roofing, walls made from a material called hardiflex and bricks to build new, sturdier structures. The materials were paid for with donations to Unbound's Disaster Response at a cost of more than $176,000.The families' contribution included labor and lumber.
The families view the new houses as a blessing, Verena said. Their previous houses were made of light materials such as bamboo and palm leaves, leaving them vulnerable in strong storms.
"In their entire life they could not have that nice house," Verena said. "They were able to have a more improved, bigger house. They are very happy."
A typical house includes a living room, bedroom, kitchen and indoor bathroom downstairs and one room on a second level. Restroom facilities at their previous homes were outdoors.
Some of the 47 families whose homes have yet to be completed opted to expand the original design and it has taken them longer to get additional resources, primarily labor and materials, needed to finish. The other 100 homes were completed well ahead of schedule.
Families in the area make their livings as rice farmers, construction workers, fisher folks, food vendors and tricycle (motorbike with passenger sidecar) drivers. Many have someone in the family with carpentry or construction expertise, and Verena has encouraged them to help those who have yet to finish their homes.
"I asked them to help and they are willing," she said.
The families who received assistance from Unbound did not get help from other NGOs or the government, Verena said.
With Unbound's help, families in the Iloilo and Albay provinces were also able to repair or rebuild their homes after Haiyan.
"We're so happy for our families, to see them have very decent houses," Verena said.
"The visit of Pope Francis to the Philippines is another blessing for the families, as they feel as one with the people of Tacloban", she said.
"It's an honor for them," Verena said, referring to Pope Francis' visit.
Unbound is the largest nonprofit in Kansas with more than $120 million in annual revenue. Unbound works side by side with people of diverse faith traditions in 21 countries, bringing people together to challenge poverty in new and innovative ways.
Unbound distributes direct aid as quickly and efficiently as possible to people who need it. More than 93 percent of Unbound's expenses go toward program support.
#