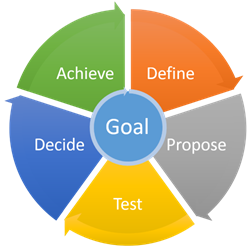 To overcome the deficiencies of traditional goal-setting and decision-making tools, CapApex is developing an app that doesn't take an advanced degree to learn and yet delivers amazing results.
New York, NY (PRWEB) January 19, 2015
Why is it so hard to set goals, correctly determine how to achieve them and then actually attain the coveted results? There are two main causes:
1) Traditional approaches to goal achievement and decision-making are overwhelming. They take way too long -- and require too much work -- to set up. Too much time is misdirected trying to learn new terminologies, complicated processes and difficult software.
2) Traditional approaches are not precise and/or don't return satisfactory results. Somewhere along the way (as early as the starting block), people give up because -- amongst other things -- they have no idea what they need to do and don't know if they are going in the right direction and whether they'll ever be successful.
To overcome these deficiencies CapApex is developing an app, CapAGoal, that doesn't take an advanced degree to learn and yet delivers amazing results.
CapAGoal guides the user through an easy-to-follow five step process to goal achievement. By keeping the goal as the focal point, the process eliminates waste (in time and money) that traditionally results in dissatisfaction, de-motivation and goal renouncement. Time in CapAGoal is only spent in moving closer to accomplishing the goal and not in mastering a tool. At every step, activity is accountable to the goal definition (and nothing else) -- from evaluation and testing of proposed solutions to tracking the progress of actions performed to achieve the task. This precision allows pursuit of dreams without fear of failure.
And CapAGoal allows goals to be where they should be: close by. Because it is a web app that adapts itself to any web-enabled device, goals are constantly at hand. If a smartphone battery goes dead, work can be picked up on a home tablet, an office desktop computer or any available device in an airport lounge/hotel/waiting room. There is no software to install, no new interface to learn. CapAGoal stays at one's side, yet stays out of the way.
Why Kickstarter?
Kickstarter is a community of passionate people trying to help each other achieve their goals. That is exactly what CapAGoal has been designed to do. It is the perfect venue to launch this app.
To explore the official Kickstarter campaign for CapAGoal, visit this link:
https://www.kickstarter.com/projects/1753955309/capagoal-let-your-goals-spring-to-life
To find out more about problem-solving, decision-making and focusing on goals, visit the CapAGoal website.
To schedule an interview with CapApex CEO, Carlos Pardo, contact CapApex Public Relations at [email protected] or call 212-292-4340.
About CapApex LLC
CapApex was created to help companies of any size implement enterprise software that will help them achieve their goals. This goal-driven approach has been applied to new apps that CapApex is putting into the market from data extraction tools to an application for better decision-making. The mission is always to provide customers with the right tools and processes to achieve their objectives.
Contact
To learn more about CapApex, please contact:
CapApex
521 Fifth Ave., 17th Floor
New York, NY 10175
Office: (212) 292-4340
Fax: (212) 292-4595
info(at)capapex(dot)com