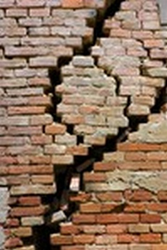 The likelihood of an earthquake measuring 6.7 or greater striking the Bay Area in the next 25 years is 63%, according to the US Geological Survey.
San Francisco, CA (PRWEB) January 22, 2015
Christopher Wells Construction, a bay area remodeling contractor, recently addressed the ongoing need for San Francisco buildings to be evaluated for earthquake preparedness in 2015, based on San Francisco's Mandatory Seismic Retrofit Program Ordinance.
As of October 6, 2014 there were approximately 500 property owners who had not submitted their screening forms for the program, according to the Department of Building Inspection.
"It's a new year, 2015, and many residences, called soft-story homes for having a weaker first floor, could be at risk of collapsing when the next big earthquake strikes," Wells said. "Bay Area homeowners should be aware of the risks involved in having a home that is not earthquake-prepared. We only need to look at what happened in nearby Napa in 2014. The Napa earthquake resulted in financial losses totaling close to a billion dollars, and more than 100 buildings were deemed unsafe to inhabit. And surprisingly, just two days ago a 4.4 magnitude quake hit San Benito County, which is only a few hours south of San Francisco."
"There is a lesson to be learned for San Francisco homeowners," Wells went on. "For those with San Francisco properties at risk for earthquake damage, make 2015 a safer year by having your home evaluated for seismic strengthening."
In fact, the likelihood of an earthquake measuring 6.7 or greater striking the Bay Area in the next 25 years is 63%, according to the US Geological Survey. Wells said this should raise two urgent questions for homeowners: "First, how can I get the information I need to make informed decisions when the next tremor strikes? And second, what can I do to protect my home from being seriously damaged?"
The voluntary strengthening ordinance (AB – 094) was passed in 2010; it applies to buildings with less than five residential units. Larger buildings fall under San Francisco's 2013 Mandatory Seismic Retrofit Program for Soft Story Wood Frame Buildings. This ordinance applies to buildings with two or more stories which contains five or more units. Property homeowners were required to complete a screening form by September 15, 2014.
Wells added that the problem is most SF homes were built long before earthquake ordinances were mandated. "The cripple walls, the short stud walls between the floor and foundation (the crawl space) need to be shear walled, or braced, with plywood. This will stop a home from sliding off its foundation," he explained. "What you are
doing is strengthening the weakest part of a building, which gets hit by the greatest force during an earthquake."
How do you detect if your home is a soft-story building? Wells pointed to several criteria listed in the 2010 ordinance that would indicate a need for voluntary strengthening. Among the criteria:

A wood-frame building
A home was constructed before May 21, 1973
A floor in which at least 50% is used for assembly, business, mercantile or storage/ parking area
The building has been determined to have a Weak Story or Soft Story deficiency
"San Francisco Department of Building Inspection offers specific incentives in the form of a cost break and expediting the building permanent process that are explained in the 2010 ordinance. "These are two very good reasons for homeowners to move forward with voluntary seismic strengthening."
"Really, the goal is quite simple: We need to keep all San Francisco homes secure in the event of an earthquake. Seismic strengthening will reduce the risk of serious injury, loss of life, or damage to a home."
Established in 1984, Christopher Wells Construction is a full service residential remodeling contracting serving the San Francisco Bay Area. The company specializes in all phases of design-build, from kitchen remodels and new additions to structural repairs and whole-house renovations.
For more information, please contact:
Christopher Wells Construction
E-mail:chris[at]christopherwellsconstruction[dot]com
website: http://www.christopherwellsconstruction.com
###